Editor's note: The year 2010 witnessed the emergence of the word "Brother" as a byword for men who became a hit online for their public displays of extraordinary styles or for being downright wacky. Their photographs in cyberspace turned them into minor celebrities drawing avalanches of cheering. These 15-minute sensations whizzed around the web like a computer virus as if the whole world caught the fever. Here are the stories about ten of them who dominated online gossiping and were awarded the monikers "Brothers".
Click for more "top ten" topics

1. Brother Sharp
He was a homeless man who spent his days and nights wandering the streets of Ningbo, East China's Zhejiang province. People began to notice him in March when a photo showed his "good looks and sharp sense of dressing."
He was nicknamed "Brother Sharp" by his fans and dubbed the "most handsome underdog of this century," despite the fact he got all his clothes from garbage cans.
Internet users enthused about "the glint in his eyes" and his "cool dude" attitude while begging for money from passers-by on the streets of Ningbo.
Related readings:


 'Handsome' vagabond wins cult following


 'Brother Sharp' returns home


 Leave Brother Sharp alone


 'Brother Sharp' had private life exposed online

2. Brother Iron
He makes a living by ironing trousers for people at a shopping mall, but became known throughout the cyberworld for his astonishing skills, which he didn't realize until a reporter told him.
Qiu Qiu, 23, wowed people with his martial arts-like performance. His ironing moves were so fast that people couldn't keep up. Some passers-by videotaped him at work and uploaded the clip online, which gained him the nickname "Brother Iron."

3. Brother RMB
A man captured the attention of people online in mid-July after taking to the streets with an ancient Chinese-style shackle around his wrists and what appeared to be 100-yuan bank notes glued to the front of his clothes in Kunming, Southwest China's Yunnan province.
On his back, he had many red seals, which are symbols of power, and a line of Chinese characters reading: "Does money and power mean everything?"
Local urban management officers told him he was damaging the city's appearance and asked him to go away. But he refused to leave and continued his street performance art.

4. Brother Gymnast
He crashed into a light truck while riding a motorbike in Wenzhou of East China's Zhejiang province around 7:00 pm on June 21, but managed to land safely after a 360-degree somersault in the air and avoided injury by acting just like a professional gymnast.
The scene was captured by a traffic surveillance camera. In online forums, people called him "Ticao Ge," or "Brother Gymnast," and said the difficulty of carrying out his "miraculous" moves matched that of an Olympic gymnast.
He left the scene without taking the motorbike, which was totally destroyed, and never showed up again. [Full story]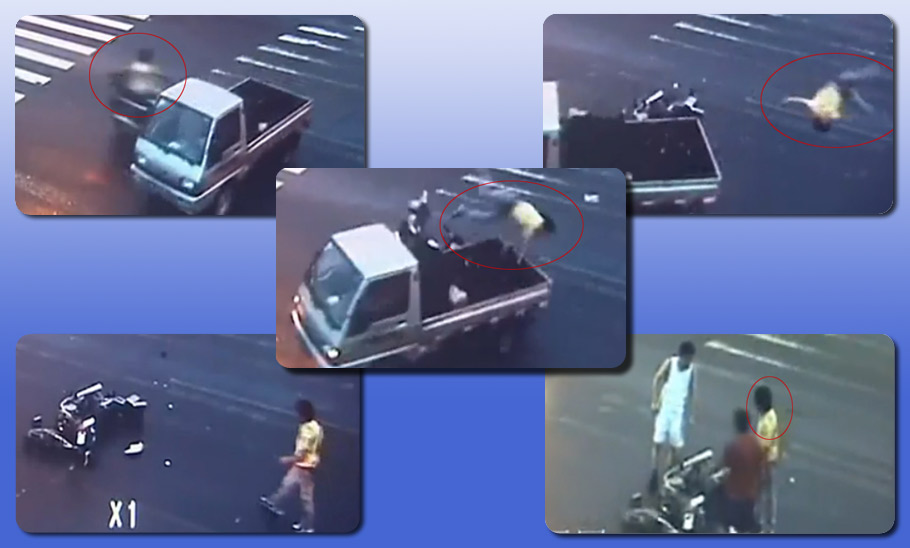 5. Brother Banner
Zhou Li showed up at the gate of Wuxi New District's labor department holding a red banner, a move generally considered to be a show of gratitude and respect for the government or its organizations.
But to people's surprise, his banner read, "Not serving the people" which was a peaceful protest against the labor department for not resolving the dispute he had with the company that hired him in 2006.
He worked as a software engineer at the company, which had him work overtime without compensation for a long time. He quit the job in July 2008 and filed a suit with Wuxi New District's labor department seeking overtime pay, but the dispute is still unresolved despite his case being taken to court 14 times during the past two years.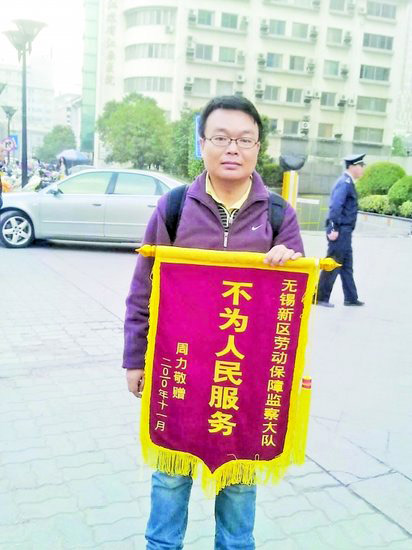 6. Brother Bedspreads
A student at Hunan Agricultural University displayed his bedspread emblazoned with the Chinese characters, "I am leaving," from the balcony of his dormitory in June, when he was about to graduate. Other students found this interesting and soon copied the move.
Some people posted the pictures of their creation to online forums and this soon became an Internet sensation. The student who started this was dubbed "Brother Bedspreads".

7. Brother Sleepyhead
A young boy tries to stay awake despite being super sleepy during class while others are reading.
The video showing his efforts to fight against drowsiness was uploaded to youku.com in June and soon attracted 570,000 clicks. He was given the nickname "Brother Sleepyhead".

8. Brother Camera
A man in Jinan of East China's Shandong province took about 5,000 photos of government cars and posted 1,000 of them online. Some of the cars were suspected of being in officials' private use.
His move attracted a lot of attention, and netizens nicknamed him "Brother Camera." People in Beijing, Shenzhen and Zhengzhou joined him in photographing government cars in a bid to prevent officials from running private errands with taxpayer money.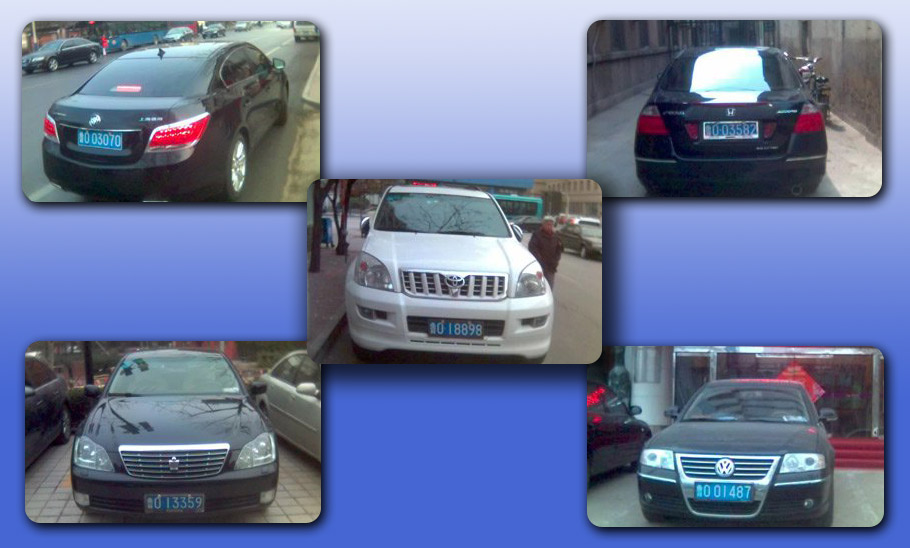 [Photos of government cars taken by "Brother Camera" in Jinan.]

9. Brother Power
A naked man stopped a taxi and tried to overturn it with his bare hands in the middle of a street in Hefei, East China's Anhui province, blocking traffic and attracting many passers-by on March 14.
While trying to overturn the car he repeatedly shouted, "Give me power," and "The ugly modern society will retreat," making him famous online with the nickname "Brother Power." He was later taken away in an ambulance.

10. Brother Lunch
After parking his million-yuan Lincoln Navigator SUV in a suburban area of Beijing at lunchtime in July, Fang started taking out boxed meals and sold them for six yuan each!
People who bought Fang's meals said the man was in his 40s or 50s and had been doing this for more than a year. In addition to the luxury Lincoln SUV, he also had a Lamborghini at home and once used a Dodge car to carry the boxed meals.
Netizens dubbed him "Brother Lunch" and called his food "happy boxed meal." A man with the net name ELVIA_WANG said one of his friends once asked Fang why he used a Lincoln SUV to do the business, and Fang said, "I had no choice, only this SUV can carry so much food."