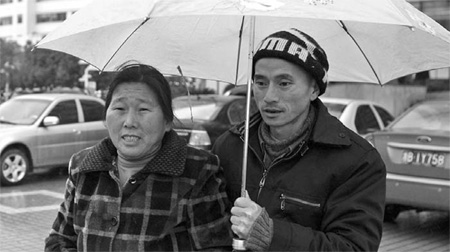 'Brother Sharp', dubbed the "most handsome" vagabond for his astute sense of style, holds an umbrella for his mother in Ningbo, Zhejiang province, after receiving a psychological consultation last Saturday. [Zhang Jianpei / China Daily] 
SHANGHAI: A mentally unstable homeless man who turned into an Internet sensation overnight after his photographs were posted online has returned to his family.
Known as "Brother Sharp" because of his good looks and fashionable dress sense, the homeless man was still reeling from his unwanted fame and afraid of his "new environment", his younger brother , Cheng Guosheng, said.
Cheng Guorong, 34, from Poyang county of Jiangxi province, left home for work 11 years ago. His father and wife died in a car accident a year ago, and he has two sons, aged 10 and 11.
Cheng Guorong's brother and mother received him at home last weekend.
According to his relatives, Cheng Guorong headed for Zhejiang's Ningbo city in 2000 and lost contact with his family three years later.
Relatives said Cheng Guorong is a proud man and his mental illness may be linked with the pressures he faced in life.
Local residents and authorities showed their support for Cheng's homecoming by sending his family food and other supplies.
"We will help them apply for subsistence allowances," said Yu Sheng, the head of a local government.
Similarly, an entrepreneur of a local logistics company offered to help the family with 2,000 yuan.
But many others have also highlighted the pressures that Cheng Guorong faced from crazed netizens and admirers who hunted him down after his photos were discovered online.
"I don't think it's money that he needs," the Xinwenhua newspaper quoted Ge Jianxiong, a member of the Standing Committee of the Chinese People's Political Consultative Conference (CPPCC), the country's top political advisory body, as saying.
Cheng Guorong lived unknown on the streets of Ningbo about half a month ago. He then suddenly became famous after an amateur photographer testing his camera lenses posted a set of photos taken of the homeless man online.
The frenzy peaked when netizens went onto the streets in search of "Brother Sharp". They wanted to update his latest photos.
It was a far cry from just a month ago, when no one even bothered to give Cheng a second look - let alone a piece of bread.
"The first time I saw him, he was wearing a colorful dress and holding a silk scarf. He was trying to find some cigarettes in a trash bin," said Zhang Wei, one of the first few people to notice Cheng two years ago.
"We met a few times and I realized he was probably suffering from some sort of mental illness," Zhang said.
Still, Cheng's unwanted fame also helped his family find him.
A friend of Cheng Guosheng said the "Brother Sharp" photos he received on his mobile phone news resembled his brother who went missing years ago.
His family soon found him with the help of these clues.
However, there are dozens of others like Cheng Guorong who remain homeless - and unknown - on Ningbo's streets, Zhang Wei said.
Zhang himself has taken numerous photos of the homeless in his city.
"I've even seen a homeless man fighting with a dog over a piece of meat in a trash bin," he said.
Cheng Guorong's story also sheds light on a pressing social concern, academics said.
"We should pay attention to these vulnerable members of society," said Hu Shoujun, a professor of social psychology at Fudan University.
"We should also not blindly blame the netizens, who thrust 'Brother Sharp' in the spotlight," said Sun Shijin, another professor of psychology at Fudan.
"Without the attention, Cheng's family may never have found him."
Luo Pingfei, CPPCC member and vice minister of civil affairs, said on Monday that according to the country's administrative measures for assisting vagrants and beggars in cities, the local civil affairs department should take the initiative to assist the underprivileged, like Cheng.
Luo also called for the government to increase financial support to improve social security services to the vulnerable groups.
As for Cheng Guorong, his photograph has become a trademark, which is under application for registration.
Zhao Xiaokai, who submitted the registration application on Friday, said that while he had yet to contact Cheng, he plans to auction the trademark online once he receives a approval and to donate the the money to Cheng.
He said he is trying to get authorization from Cheng's family.