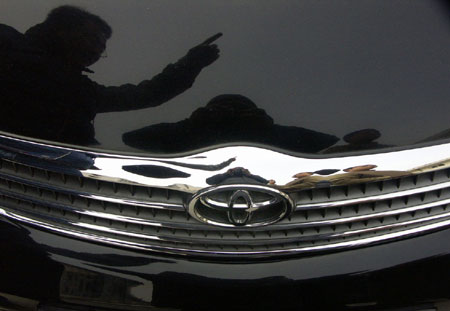 A Toyota car on display at a dealer's showroom in Nanjing, Jiangsu province. An Xin/ China Daily
BEIJING - Toyota has dropped from the top 10 list of the best selling cars in China this month, for the first time in years.
According to statistics released by China Passenger Car Association, in February, FAW Toyota - the Japanese automaker's joint venture in China - disappeared from the Top 10 sales list for the first time.
Although Toyota China said its total sales rose 30 percent in February from a year earlier to 45,400 units, the figure continued a sharp decrease from 72,000 vehicles in the previous month.
In January, the recall-plagued brand encountered the first drop of 16.3 percent from last December, however, in an aggressively growing auto market.
Public opinion appears to be negative on Japanese brands in general, as seen in a recent Internet poll.
According to a survey conducted by Chinese website sina.com, 73.6 percent of online respondents said they would not buy Toyota or Honda branded cars after the recalls, with only 16.4 percent maintaining Japanese cars are still their preference in terms of choices.
The online poll was conducted on 258,000 participants between March 1 and March 8, 2010. Sina.com was not able to provide a demographic breakdown of the survey's online respondents.
Akio Toyoda, the Japanese automaker's president, forecast last week during a visit to Beijing that the company's 2010 sales would hit 800,000 units this year in China, up from 709,000 in 2009.
Related readings:


 Toyota chief meets Japan PM, vows to rebuild trust


 Toyota travails: Lesson for Chinese carmakers


 Drivers say Toyota's fixes did not work


 Toyota offers compensation in US, not China
He was here to apologize to Chinese consumers for Toyota vehicle sticky accelerator pedals.
To salvage sliding sales and a public opinion nightmare, Toyota has kicked off a series of sales incentives to lure buyers in China.
"We cannot sit still and wait any more," said Niu Yu, Toyota's spokesman last Friday in Beijing.
Toyota will offer buyers zero-interest financing for some of its models, and its venture FAW-Toyota is also providing a year's premium of car insurance and two years of 24-hour roadside assistance to new buyers, in addition to free fuel cards for potential customers who test-drive its cars.
Moreover, some dealers have reduced the price of the recall-involved RAV4 vehicle by 8,000 yuan, a model buyers had to add 6,000 to 10,000 yuan to get the vehicle right away or wait for at least two months, before the quality crisis.