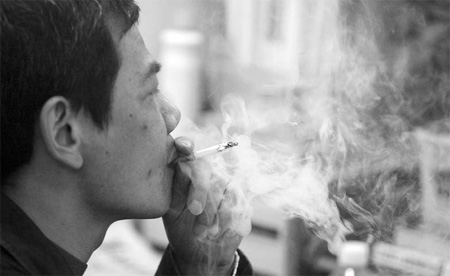 A man smokes in his office in Guangzhou, capital of Guangdong province, on Wednesday.[Zou Zhongpin/China Daily]
GUANGZHOU: Meeting rooms and offices of government departments, companies and other organizations, as well as small restaurants in Guangzhou, Guangdong province, have been given the green light for smoking in an amended anti-smoking regulation draft.
Only indoor halls for public services of these organizations should be smoke free. Restaurants with an area of 150 square meters or 75 seats or more should set aside smoking areas, according to the draft submitted on Tuesday for the second reading at the standing committee of the city's people's congress.
Related readings:


 13 China colleges to offer anti-smoking courses


 Anti-smoking ads are smoke screens to truth


 Shanghai spearheads smoking bans for smoke-free World Expo


 Recruitment drive launched to help stub out smoking in public


 Cities set to order ban on smoking
The regulation is expected to take effect before the Asian Games the city is scheduled to host between Nov 12 and 27.
In the previous version, auditoriums, meeting rooms and public service halls of various organizations were defined as smoke-free zones.
The revision has come about because some members of the standing committee find public areas are different from working areas. They say it would be too strict to define auditoriums, meeting rooms and offices as smoke-free areas, a move that would be out of step with the reality of life in the city.
The new version requires the organizations to formulate their own smoking control policies to ensure the health of their workers.
In contrast, the anti-smoking rule in Shanghai, which took effect on March 1, states that meeting rooms, canteens and shared work areas of government departments are smoke free.
According to the rule implemented by the Beijing municipal government in May 2008, indoor offices, as well as meeting and catering areas of various organizations, are smoke free.
The new version is at odds with the city's patriotic public health campaign office, which advocates a 100 percent smoking ban in public and working areas, Liang Lijun, an official with the office, told China Daily.
"We hoped the legislation would be stricter. The government should be setting an example with its anti-smoking effort," Liang said, adding that they would continue to push for their goal in the third reading of the bill.
In a major change in the Guangzhou draft, small restaurants are not required to eliminate smoking because it is not feasible to do so.
Deng Pan, who teaches at a college in Guangzhou, said there should be a smoking ban in working areas.
"Although many people smoke, many don't and their feelings should be taken into consideration."
A further departure in the revised draft stipulates that an organization will be fined 1,000 to 30,000 yuan ($147 to $4,400) if it fails to set up a non-smoking area.
Citizens have the right to report organizations that fail to fulfill their anti-smoking obligations to the city's patriotic public health campaign office.
The city's government departments remain responsible for enforcing the regulation in both versions of the draft.
The legal affairs committee maintains that any single department is insufficiently able to manage the job with an estimated 2.3 million smokers in the city, said Xing Xiang, deputy director of the committee.
Liang Zhuohui contributed to the story.