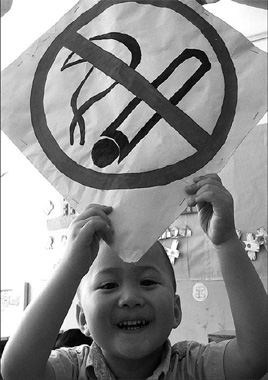 A boy shows his self-made no smoking poster during a lecture in the kindergarten in Shenyang, capital of Liaoning province, encouraging their fathers to quit smoking. [Wang Qibo/China Daily]

To protect people from exposure to secondhand smoke, seven cities in China will take the first steps in creating legislation on stopping smoking at public venues and workplaces.
Under the project, jointly held by the Chinese Center for Disease Control and Prevention (CDC) and the International Union against Tuberculosis and Lung Disease(UNION), the cities - Tianjin, Chongqing, Shenyang, Harbin, Nanchang, Lanzhou and Shenzhen will implement a smoking ban in public and in workplaces.
Currently, smoking is allowed in certain areas in public places, and experts said the enforcement of smoking bans is poor.
"This project would create strict legislation to guarantee 100-percent smoke-free public venues and workplaces and figure out a feasible and forceful working mechanism to enforce the smoking ban," said Wang Yu, director of China CDC at the project launch Friday.
"Only with the support of the pilot cities' municipal governments and legislatures can the people there finally enjoy smoke-free environments," he noted.
The largest tobacco consumer worldwide, China has 350 million smokers, official statistics show. Also, 540 million non-smokers are exposed to the hazards of secondhand smoke.
Apart from 1 million smoking-related deaths each year in China, passive smoking causes around 100,000 deaths annually in the country.
"In that regard, the project, if realized, would help save millions of lives through lowering tobacco consumption and reducing secondhand smoking," said Dr Sinead Jones with UNION.
"The project would be scaled up to cover the whole nation in the future to protect more people from smoking," said Wang.
Xie Zhiyong, professor with the China University of Political Science and Law, said by weighing the benefits and risks of tobacco, the country should take bolder steps in smoking and tobacco control.
Related readings:


 Clinics offer smokers help to quit smoking


 Study finds quitting smoking raises diabetes risk


 Shanghai: Wider ban on smoking in public venues

 Smoking ban in public places in Shanghai to be enforced


 Smoke-free list extends to healthcare facilities
Official statistics show smoking costs the nation more than 252 billion yuan ($37 billion) each year in medical costs, fire and environmental pollution, far beyond the tax revenue generated from the industry.
"For smoking bans in public places, legislation comes first, with implementation the key link," Xie said.
At present, health administrations are in charge of enforcing smoking bans in public places, which are usually poorly staffed, according to Xie.
Besides, some local governments count heavily on the local tobacco industry as a major source of tax revenue, which as a result makes smoking more difficult to control, he said, adding that tobacco companies are all State owned in China.
Smoking control might be the first step towards tobacco control, which needs support from the decision maker, the legislature and the media, he added.