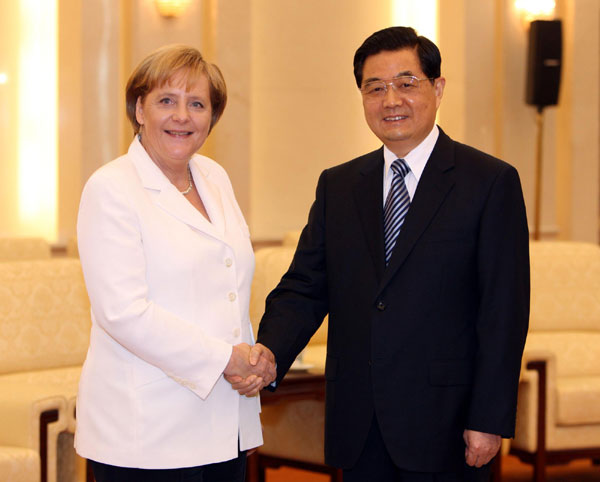 Chinese president Hu Jintao (R) and Germany's Chancellor Angela Merkel shake hands during their meeting at the Great Hall of the People in Beijing July 16, 2010.
BEIJING - Chinese President Hu Jintao said Friday the frequent high-level meetings between China and Germany demonstrate the strength of the bilateral relationship.
Hu made the remarks when meeting with visiting German Chancellor Angela Merkel.
Hu said he had met with Merkel three times since April, including a meeting at the Nuclear Security Summit in Washington.
Related readings:


 China, Germany ink ten agreements amid Merkel's visit


 Chinese Premier, German Chancellor hold talks


 China's vice president meets German Chancellor


 Trade tops Merkel agenda

"Your visit, very shortly after our three meetings, fully demonstrates the sound momentum of bilateral relations," said Hu.
China and Germany relations had developed smoothly with the concerted efforts of both sides, enjoying productive cooperation, rich cultural exchanges and coordination in regional and international affairs, said Hu.
China and Germany issued a joint communique to promote the strategic partnership during Merkel's visit.
"This is strategic policy-making by the two sides, which will surely have far reaching significance and bring new opportunities for bilateral ties," said Hu.
Hu said China was willing to work with Germany to strengthen political mutual trust, trade cooperation and cultural exchanges in accordance with the direction set in the joint communique.
China and Germany would also cooperate within multilateral frameworks, counter global challenges so as to advance the relationship and contribute to world peace and common development, Hu said.
Merkel said she was pleased to meet with Hu on many occasions and exchange views on major issues.
She said Germany and China had cooperated well in tackling the global financial crisis, resulting in a closer relationship and international recovery and healthy development.
"China, with rapid economic growth, is a major partner of Germany and Europe," said Merkel, thanking China for its support in helping EU efforts to stabilize the euro.
Earlier Friday, Chinese Premier Wen Jiabao held talks with Merkel in the Great Hall of People in Beijing.
At the invitation of Wen, Merkel is paying her fourth visit to China.
After meetings with Chinese leaders, she will fly to Xi'an in northwest China's Shaanxi Province later Friday.