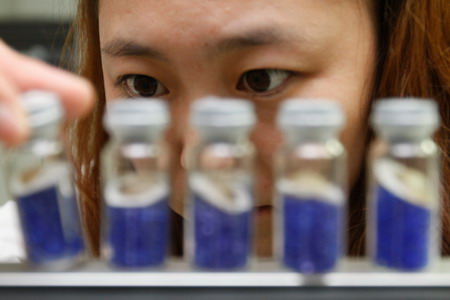 Yu Jin works at a disinfection unit at Tongren Hospital in Beijing. As a cornea donation agent, she has successfully harvested corneas from 30 donors since 2008. [Zhang Tao / China Daily] 
BEIJING - Yu Jin is not afraid of the dead, but sometimes she fears the expressions on the faces of their surviving relatives.
Yu, 23, works full time attempting to persuade people to donate their corneas after they pass on, or to donate those of their loved ones.
"The best time to obtain corneas is three hours after death. That means we have to rush to remove the eyeballs from the deceased while their relatives are still absorbing the impact of their deaths and are in grief," she said. "I cannot forget the expressions on their faces."
Whenever it happens, Yu said she acknowledges that to those who have just lost a loved one it seems like she is engaging in a cruel act.
She has to force herself to maintain perspective. To do so, she bears in mind those who are desperately waiting for a transplant.
Since 2008, she has successfully harvested corneas from 30 donors.
She still vividly remembers the first donation she received in April 2008. The 89-year-old donor, Tang Lin, had just died and her family signed the agreement as soon as Yu and the doctor arrived.
As they prepared to perform the procedure, her son asked if they would just take his mother's corneas.
"We have to remove the eyeballs intact from their sockets," Yu said, lowering her voice. It broke her heart to have to tell them: "If only the corneas are removed, the liquid will flow out and ruin the remains."
The room drew silent, Yu said, as the son's own eyes welled up with tears.
It only took 15 minutes to complete the procedure. Yu assisted the doctor who removed the eyeballs. Fake ones were then inserted and the lids were sewn together.
The eyeballs were sent to a hospital. Yu stayed with the family, but did not know what to say to comfort them.
"I never know whether to be happy or sad when I receive a call to collect corneas," she said.
Yu never thought she would have such a sensitive role. Three years ago, she dreamt of becoming a nurse while she studied in her hometown in Northeast China's Liaoning province.
After graduating in 2007, she found a job in Beijing as a nurse at Tongren Hospital, which is famous for its department of ophthalmology.
A few months later, her director asked whether she would like to become a cornea donation agent.
"From the job description, I immediately grasped that it would be a difficult job. Perhaps they thought I would be good in the role because I have the gift of the gab."
China's first organ donation agent appeared in 2003 in Shenzhen, Guangdong province. The field still remains relatively small and Yu gave the offer serious consideration before accepting the challenge.
"I will treat it as a job," she told herself at the time.
But she found it even harder than she had imagined.
"At first, I could not fall asleep at night. I kept thinking about how to approach the subject with the surviving relatives. It was like having to take a test," Yu said.
She would get up early and take the bus to various hospitals and hospice care centers.
She initially approached terminally ill patients and surviving relatives who looked kind and friendly. She would chat with them as she built up the courage to raise the issue of organ donation. People usually did not respond well.
"At first, I was terribly frightened when people shouted at me and called me wicked," she said. "I didn't blame them, I understood."
Traditionally, Chinese people regard keeping a corpse intact as a sign of respect for the dead. For them, it goes against the grain to donate their organs.
While organ donation is in the process of becoming the norm in the West, it is still getting off to a bumpy start in China.
Yu said her performance is not good, but she will keep trying. "If I lose my job one day, it will mean that people are voluntarily donating their corneas and no persuasion will be required," she said.