Editor's Note: Newly-released economic data confirmed market expectations that China's economic growth rate has slowed but officials said the country's economy is still on track. [Share your views]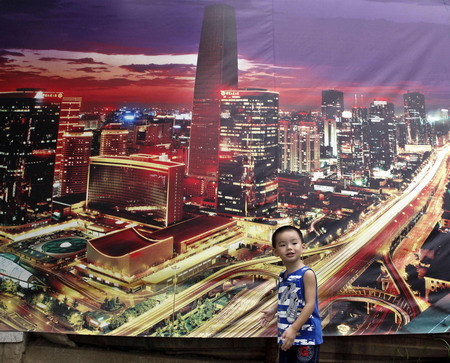 A boy walks past a billboard that shows the Central Business District in Beijing. China's economic growth slowed in the second quarter to 10.3 percent from a year earlier, a touch weaker than expected, in response to the fading of government fiscal and monetary stimulus. [Grace Liang / Reuters]
Data and Graphics: Slowing Economy
Slowdown 'may add' uncertainty
But fresh stimulus still 'unnecessary'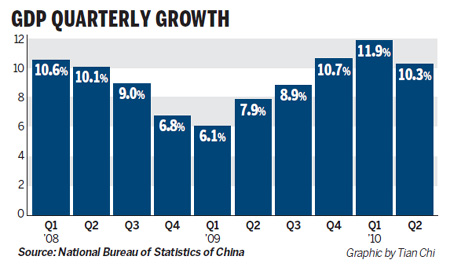 A slowdown in the China's economic growth in the second quarter may add more uncertainty to policymaking, but it will remain stable and new stimulus is unnecessary, Chinese economists have said.
China's gross domestic product (GDP) expanded by an impressive 11.1 percent year-on-year in the first six months, the National Bureau of Statistics (NBS) said on Thursday, but its growth eased to 10.3 percent in the second quarter from 11.9 percent in the first. 
China's economic slowdown is attributable to its tightening of the real estate sector and the control of credit as policymakers were worried about economic overheating early this year, analysts said. The weakening trend will continue, they said. Full story
Chinese foreign investment surges despite slowdown
China's foreign direct investment (FDI) swelled to $13 billion for the month of June - an increase of nearly 40 percent over the same period last year.
The surge, the highest single increase since December 2007, according to industry analysts, reflects how China's investment climate remains highly attractive in the long-term, despite an economic slowdown.
This robust FDI growth is also a powerful rebuke to rising concerns among foreign businesses that China's investment environment is worsening, and thus losing ground to its neighbors elsewhere in Asia. Full story
Related: China's FDI up 19.6% in H1
Consumer inflation up slightly in H1
China's consumer inflation will continue to weaken in the second half of this year after easing in June, economists said. The Consumer Price Index (CPI), the major gauge of inflation, grew 2.6 percent in the first half of 2010 over a year ago, the National Bureau of Statistics said on Thursday.
Worries over inflation increased as prices of properties and food soared in the beginning of the year, however, the worst-case scenario has been avoided and inflationary pressures are likely to ease in the second half of the year, economists said. Full story
Related: Consumer prices rise 2.9% in June 
       China's manufacturing expands at a slower pace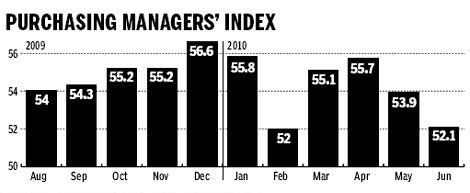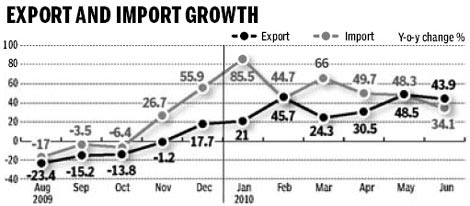 People's income continues to grow 
Policy Watch: Maintain Steady Policy
Wen: China to stick with steady policy, backs euro zone
China will stick with the policies that cooled economic growth last quarter and will keep faith with the euro despite Europe's debt problems, Premier Wen Jiabao said on Friday. Full story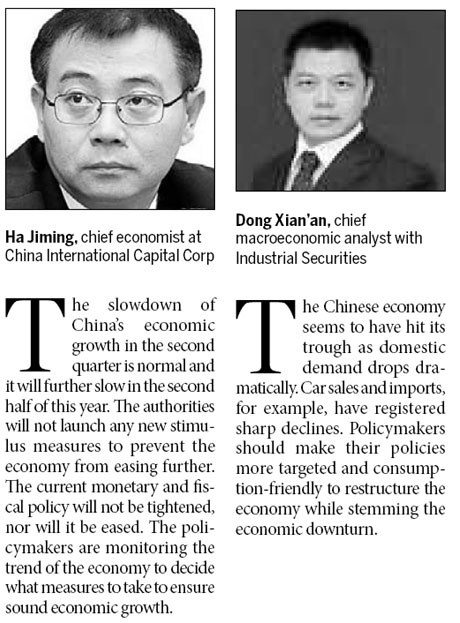 Interest rate hike may be necessary, says WB
World Bank economists have highlighted the need for China to raise its interest rates despite concerns over a continual economic slowdown indicated by the second-quarter growth rate released on Thursday. Full story
China's V-shaped rebound from the worst global downturn in more than half a century may be slowing a bit, with growth moderating to 10.3 percent year-on-year in the second quarter from 11.9 percent in the previous one.
Fresh worries of a sharp slowdown are, however, simply misplaced given that China is the fastest growing among major world economies.
In fact, policymakers may actually welcome this deceleration as a way to prevent the economy from growing too fast and becoming overheated. Full story