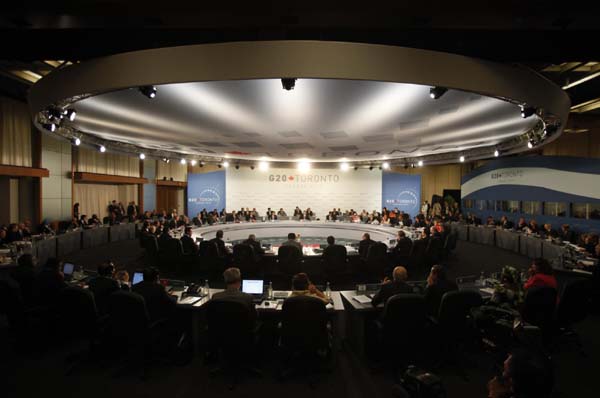 Leaders of the G20 nations gather for the opening plenary session of the G20 Summit in Toronto, Ontario, June 27, 2010. [Agencies] 
Calling for renewing commitment not to impose new restrictions on goods, investment and services, he said developed countries should promote international trade "with greater openness."
"It is important to address trade frictions appropriately through dialogue and consultation and under the principle of mutual benefit and common development," he stressed.
During the speech, Hu emphasized the significance of strong and sustainable growth for the world economic development.
"To ensure strong growth is the top priority in today's world economic development," Hu said, "to enable sustainable growth is our long-term objective."
Special coverage:
Hu Visits Canada, Attends G20 Summit
Related readings:


 President Hu attends G20 Toronto summit


 Thousand protest against G20 summit in Toronto


 G20 leaders meet in Toronto to seek sustained recovery


 China outlines its agenda for G20 summit
The Chinese leader called upon other heads of state and government attending the G20 Summit to take proactive steps to ensure strong growth, make great efforts to develop the real economy, create jobs for the people and step up international cooperation in emerging industries.
"We should overcome difficulties in the course of progress and tackle challenges through growth," the Chinese president said, adding "We should strive for balanced growth, including balanced growth both among different parts and industries of a country and among different countries and regions."
But the Chinese leader warned that it would take a long and complex process to achieve strong, sustainable and balanced growth of the world economy.
"It cannot be done overnight. We must make persistent efforts to push forward this process. And in doing so, we must also take into account specific circumstances of industrial countries and respect their diverse development paths and models."
President Hu offered examples and experiences to back up the Chinese insight in coping with the ongoing global financial and economic slowdown.
"Since the outbreak of the international financial crisis, China has comprehensively implemented and continuously enriched and improved its package plan and other policy measures in response," He told G20 summiteers.
"As a result, the Chinese economy grew by 8.7 percent in 2009 and contributed its part to regional and global economic recovery. Since the start of 2010, the Chinese economy has maintained steady and relatively fast growth. In the first quarter, the economy grew by 11.9 percent."
President Hu said his country always values sustainable growth which is demonstrated by the country's effort to keep budget deficit under 3 percent of the GDP.
China has been boosting domestic demands so as to better balance off the country's economic development and cope with the global economic slowdown.
"In 2009, while China's total exports in goods dropped by 16 percent, its retail sales (at home) were up by nearly 17 percent in real terms, fixed assets investment increased by about 30 percent, and current account surplus relative to the GDP fell to 6.1 percent," Hu cited telling figures.