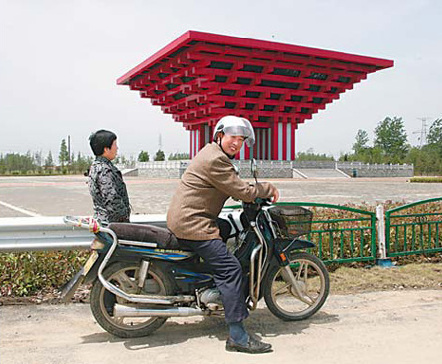 A replica of the Expo 2010 China pavilion in Funing county, Jiangsu province, has been drawing attention from motorists passing through the area. [China Daily]
When Zhang Haibin first saw the unmistakable outline of the Expo 2010 China pavilion on the horizon, he could not believe his eyes - mainly because he was 454 km away from Shanghai, the host city of the expo.
After remembering where he was - in southern Funing county of Jiangsu province - the 28-year-old Zhang ordered his driver to pull over for a closer look.
"The building is just like the China pavilion at the Shanghai Expo," said the businessman from Anhui province, after getting his assistant to take a picture of him with the large, red structure.
"But I couldn't figure out any practical use for this out here."
At 23 meters tall, Love China - the name of the artwork - is just over one-third the height of the real pavilion in Shanghai. It sits in the center of an 8,000-sq-m paved area, which used to be a tree-lined lawn.
Although officials have spent 3.5 million yuan ($510,000) on the eye-catching project, local residents said the square has nothing else to hold the attention.
When China Daily reporters went there recently, a worker adding finishing touches to the attraction said visitors cannot even go inside the miniature pavilion.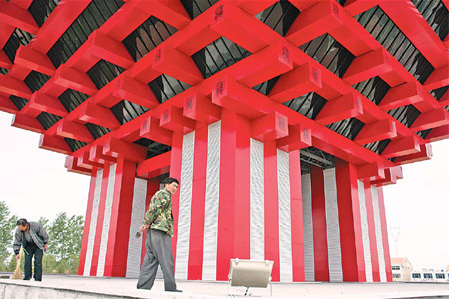 The replica China pavilion, which is a third of the size of the real one, sits in the center of an 8,000-square-meter paved area in Funing, an impoverished area in East China's Jiangsu province. [China Daily]
"All you can do is wander around it. There's nothing else to see," he said.
Most people like Zhang passing through Funing stop to marvel at the structure but are usually back in their cars and on their way after a few minutes.
Love China is one of many xingxiang gongcheng, or "image projects" - structures or complexes with no practical use other than to raise a town's profile - that have been built in poor areas across the country this year, analysts said.
Other such "unnecessary" developments include a half-completed 6.1-billion-yuan commercial zone in Qingshuihe in the Inner Mongolia autonomous region; a luxurious office and accommodation complex in impoverished Songxian county, Henan province, and a project to construct 10 golf courses in Lingshui county on the island of Hainan.
All of these locations, including Funing, are nationally recognized as poverty-stricken counties, and experts say the projects are just a few of the examples of how authorities are mismanaging funds given to them by superior governments.
Figures provided by the Funing county planning board shows authorities used 2 million yuan to build the mini China pavilion, which is decorated with lights, and 1.5 million yuan on the square.
"It's a universal phenomenon," said Li Chunting, former deputy director of the Agriculture and Rural Area Committee under the National People's Congress and a current member of the NPC Standing Committee. "All 21 provinces and municipalities I have inspected have built image projects.
"Small towns are constructing unnecessarily huge squares and overly wide roads," he said. "People are being angered by the waste of materials."
Calls for more effective prevention against wasteful spending on image projects have grown in recent years.
The central government implemented new regulations on urban and rural planning in October 2007 stating that authorities should avoid using funds on public projects that could be better spent on improving people's lives. Last year Premier Wen Jiabao urged national auditors to keep a closer eye on public investment to avoid wasteful spending.
However, Qiu Baoxing, vice-minister of housing and urban-rural development, said he believes the regulations on image projects need to be far more strict.
"About one-fifth of China's 660 cities and more than 20,000 towns have too many image projects and make few efforts to build infrastructure," he said, before adding that the public should play a greater role in supervising official agencies.
If governments were required to publicly publish reports on what projects they are working on, residents would have the opportunity to lodge objections with higher levels of authority, said Qiu.
"The problem is," he explained, "in many poor areas, people are not notified before work on these projects starts and don't have the chance to object."
Getting connected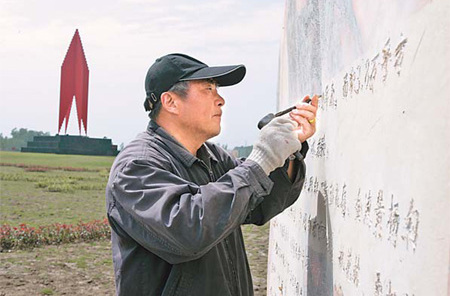 Wei Deyu, 70, carves Chinese characters into the granite monument in a square in Funing county, Jiangsu province. He earns 60 yuan for every character he carves. [China Daily]
In response to the criticism that has followed construction of the replica pavilion in Funing, officials said they had done nothing illegal and insisted the project was carried out due to public demand.
Li Deping, director of the county information office, admitted the sculpture was mainly intended to boost the image of an area that is "anxious about becoming marginalized".
Yancheng, the city that administers Funing, has the longest coastline in northern Jiangsu, which was last year earmarked for development as part of a national strategy. However, Li explained that without a seaport or good access to an expressway, officials in Funing "felt under unprecedented pressure" to enhance the economy.
"In 2006, we build an entry road onto the expressway so people can get to the coastal highway connecting Highway 204 to Subei Airport," he said. "The sculpture is on the junction with the expressway."
If officials hoped the replica pavilion would act as an impressive landmark and put the county under the spotlight, they were right, but perhaps for the wrong reasons. The criticism targeted at them has largely put the area on the map.
Of the 106 nearby residents polled by China Daily, about 90 percent said the structure was "impractical" and many showed little interest in using the square for any kind of activities.
"The (mini pavilion) might be imposing but it doesn't make any difference to our lives or the local economy," said a man who gave his name as Chen. "That's why we don't like it."
The mini pavilion is not Funing county's first image project. Four kilometers east of Funing town, far from most residential communities, stands another large, grass-covered square that was built on top of an old duck pond last year. In the center is a sculpture made of four reversed red flags and a stele.
County officials declined to comment when asked about the square but nearby villagers estimated the cost of the project at about 2 million yuan.
Wei Deyu, 70, who created the stele, said he began work on the project last December and earned 60 yuan for every character he carved into the granite monument, walking away with about 30,000 yuan in total.
However, although Funing is regarded as a relatively poor county in Jiangsu, it is far richer than some parts of neighboring Anhui, meaning officials can afford such projects, said Li.
Funing's GDP in 2009 was 16.6 billion yuan, up 14 percent over the previous year, while revenue rose 53 percent to 2.4 billion yuan, according to the county authority's website.
However, the county's per capita GDP last year was just 13,113 yuan, 20 percent lower than the average in Anhui and 70 percent lower than the average across the rest of Jiangsu.
In need of money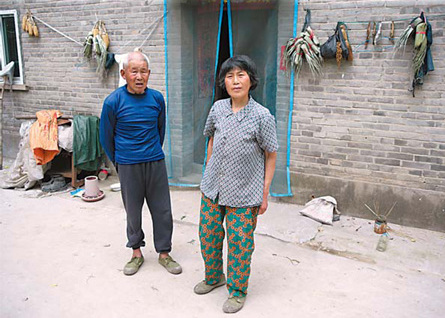 Sheng Hongzuo and his wife, Yang Yuzhen, who make only 300 yuan a year growing wheat on 2 mu of farmland, live in Haikou, a village 35 kilometers out from the mini China pavilion. [China Daily]
As part of a nationwide strategy launched in 1986, the central government classified 331 counties as poverty-stricken. Another 261 were added to the list in 1994.
Each one receives at least 10 million yuan in subsidies from the central and provincial governments to boost economic development, according to an official in Yuexi, one of the counties on the list in Anhui, who did not want to be identified.

Image projects in such impoverished places are not only impractical, but they can also harm an area's economic development and affect livelihoods, said Wu Weijia, director of Tsinghua University's urban planning department.
"They waste a lot of resources and restrict the long-term development of rural and urban areas," added the professor.
Chen Ru, deputy director of the Nanjing Academy of Social Sciences, agreed and said he fears the subsidies are often misused.
"Improving people's lives is much more important than building landmarks," he said, adding that local authorities need to do a lot more to help elderly people and farmers.
In Haikou, a village 35 kilometers from Funing town, Sheng Hongzuo, 67, and his 60-year-old wife, Yang Yuzhen, make 300 yuan a year by growing wheat on 2 mu (0.1 hectares) of land.
Their 15-square-meter home is considered small even for the Chinese countryside, while their kitchen consists of four walls of loose bricks that look as though they would fall down in a light breeze. They have no electrical devices and their only entertainment is two barking dogs.
Sheng is unable to use his left hand due to a disability and the couple's son has not worked since he fell from a building he was working on in Qingdao, Shandong province, two years ago.
Although the mini pavilion project was completed swiftly, Sheng said plans to construct a highway next to the village continue to be stalled - even though the village head, Wang Yacui, has already collected 300 yuan from every resident.
"I have no idea when the road will be built as my superiors have not allocated the funds," said Wang.
Funing is also one of the biggest suppliers of pigs in China, selling an estimated 400,000 a year. However, more than 3,000 piglets died in Guhe township last year due to an epidemic disease.
Farmer Zhang Shumu said he had to bury 60 pigs, costing him 8,100 yuan - more than a third of his annual income - and complained that the local authorities had offered no financial support to breeders to cover their losses.
A township official who did not want to be identified told China Daily that the authority did not have the funds to help the farmers because the county government did not allocate enough cash.
More cover stories