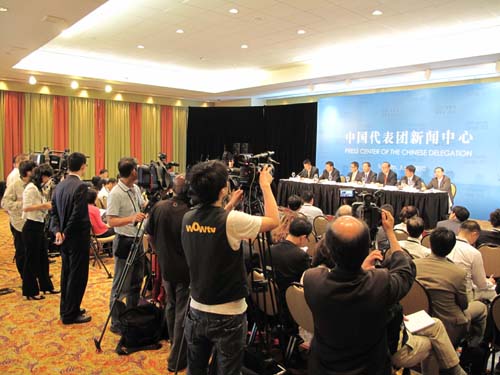 The Chinese delegation to the G20 summit holds a press conference in Toronto, Canada, June 26, 2010. [Li Xing/chinadaily.com.cn]
Toronto - Coordinating the nations' macroeconomic polices and enhance global recovery top China's agenda for the summit of the leaders of the Group of 20 in Toronto, Canada.
Speaking at the Chinese delegation's press conference, Chen Xu, director-general of Foreign Minister's Department of International Organizations and Conferences, outlined China's five goals for the G20 summit, which opens tonight.
Special coverage:
Hu Visits Canada, Attends G20 Summit
Related readings:


 Hu calls for promotion of Sino-Canada strategic ties


 Chinese, Indonesian leaders meet on G20 sidelines


 Canadian PM says G8 won't be replaced by G20


 Protest staged in Toronto on G20 summit eve


 China draws world's attention ahead of G20 summit


 Consensus key to G20


 President Hu meets with Canada's leaders in Ottawa

 In addition to push for concerted efforts to "reinforce global recover", China hopes the summit will "provide a political impetus and guidance for quota reforms in International Monetary Fund by G20 Seoul summit later this year, thus fully implementing the agreement the parties reached in Pittsburgh," he said.

China will also call for intensifying reforms of financial regulations, "particularly regulations concerning credit rating agencies".

China will also express its strong opposition against "all forms of protectionism" and will push forward the process of Doha round negotiations, Chen said.

China hopes that the summit will build upon the progress the previous summits have achieved and push for implementation of the comprehensive agreements the G20 economies have reached, Chen said.

China will also "encourage the summit to pay more attention to development issues and give greater support for the United Nation's high level meeting of Millennium Development Goals to be held in September," he said.

China hopes that this summit will "uphold credibility and effectiveness of G20 and consolidate the status of G20 as a primary forum for global economic development," he said.