Chinese equities plunged on Monday in what analysts described was panic selling as investors dumped shares in the domestic A-share market.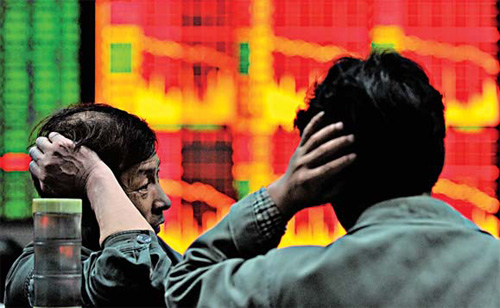 Investors stand in front of boards showing stock prices at a trading house in Shanghai on Monday. Chinese shares hit their lowest level in more than a year, tumbling 5.07 percent amid concerns that Beijing may step up tightening measures in the real estate sector. [Agencies]
The plunge is believed to reflect investor anxiety, among mixed reports, on how the government's new urban housing policies cascade into other sectors.
The benchmark Shanghai Composite Index suffered the biggest loss in a year, falling 5.07 percent from 2696.63 points to close at 2559.93 points. More than 200 stocks fell to their daily trading limit of 10 percent.
Related readings:


 China's stocks fall to one year low


 China stocks plunge most since August


 China inflation rises as housing, food costs jump


 Beijing's housing prices dropped 8000 yuan

Leading the decline was the real estate sector, with China Vanke Co retreating 5.34 percent to close at 6.92 yuan ($1.01). Financial services, steel and auto stocks were also among the major losers, slumping more than 6 percent.
Only gold-related shares defied the downward trend as investors sought a save haven.
Analysts said the sharp decline was triggered by investors' fears that recent government intervention in the real estate market would slow industrial growth. A report said while housing transactions have slowed to a crawl, prices for many housing units remained as high as before.
"The tough measures have not achieved the desired effect of bringing down housing prices. But they did lead to market stagnation with buyers adopting a wait-and-see attitude," said Dong Xian'an, chief economist at Industrial Securities.
"In any market, if there is neither transactions nor investment, there will be a slowdown, or maybe no growth," he said.
So investors are uncertain and about out how Beijing's macro-economic policies will pan out, or whether harsher measures are in store to contain inflation and avert asset bubbles.
According to Yang Delong, chief strategist at China Southern Fund Management Co, pricking the real estate bubble and easing price rises will almost necessarily point to lower profitability of many publicly-listed companies.
The National Development and Reform Commission, the top economic planner, is currently drafting "more stringent" rules for the property market, China National Radio reported on Monday morning.
In contrast, Premier Wen Jiabao warned over the weekend of the dangers of conflicting policy consequences, and pledged to steer clear of such "negative impact". At the same time, the premier admitted that both domestic and overseas conditions remain "extremely complex" and the Chinese government faces "many dilemmas".
What investors want is clear direction while the economy needs a complex solution, which can only deliver results relatively slowly, analysts said.
Some market watchers said that the equity market faces the risk of further declines if investors buy into rumors that housing prices could fall as much as 30 percent this year.
"The market will hit bottom only when the intervention in the real estate market achieves its initial goal (of stabilizing prices) and the overall inflationary pressure eases substantially," said Zhao Qian, an analyst at Guosen Securities.
Before that, he added, the market may continue to fall to as low as around 2,000 points before returning to a more solid footing.
The Shanghai index has lost 22 percent this year, the world's fourth-worst performer among the 93 gauges tracked by Bloomberg.
Analysts said that the launch of the stock index futures which tracks the CSI 300 Index is also one of the reasons leading to the decline as the short selling mechanism increases market volatility in the near term.
The June futures contract, the most active, declined 5.66 percent from 2845 points to close at 2722.4 points.