The mainland is closed to foreign domestic help. But that is not stopping many from hoping the days of employing a Filipino housekeeper are close at hand.
Jane Zhang has seen some 30 Chinese housekeepers come and go in the past nine years - despite a five-day work week, holiday leave, holiday bonuses and a 13th-month wage.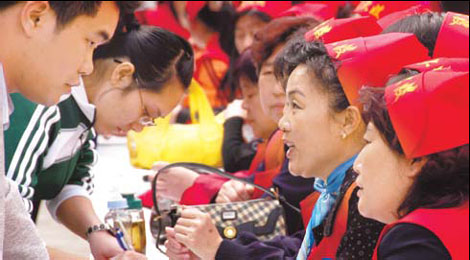 Some 200 housekeepers meet potential employers at a job fair held by Xingtai Workers' Union, in Hebei province, in March. Huang Tao / China Daily 
Zhang says, "Finding a good husband is easier than finding a good ayi" is a running joke among her married friends. The Beijing real-estate agent and mother of a 9-year-old believes the search would be easier if they could hire a foreign - ideally, Filipino - housekeeper.
Visits to the home of a friend in Hong Kong have impressed upon Zhang the merits of Filipino helpers. Between sips of double espresso, she rattles off their attributes as if describing the "Employee of the Year": smart, competent, hardworking, tactful, resourceful, cheerful, self-assured, and easy to get along with.
Zhang also believes that communicating in English will be a boon to her son. For all this, she is willing to pay at least 3,500 yuan ($513) a month - three times what a Chinese helper makes on average.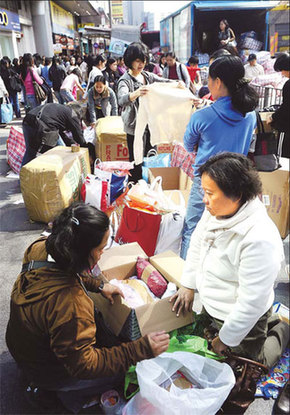 Filipino domestic helpers load boxes with food and clothing on a central Hong Kong street, before being sent to their families. Remittances sent home by overseas Filipino workers are a significant part of the country's economy. Provided to China Daily 
Zhang says she knows at least five other local families who want Filipino housekeepers and nannies, despite the extra cost, but all of them are up against a wall. Domestic-helper jobs on the Chinese mainland are closed to foreign nationals, and the authorities have been implementing this even more rigorously since the Beijing Olympics.
The government's case is that it is trying to deal with the problem of surplus labor - which has been exacerbated by the financial crisis - says Carl Chen, manager of Angel Housekeeping Company, a housekeeping agency in Beijing, established in 2007.
"It wants to reserve more jobs (for locals) since there are many 'foreign talents' whose jobs can easily be filled by locals," he says.
Another reason for the restriction, Chen says, is to help ease the pressure on Beijing's infrastructure and social services due to a burgeoning population. A February report by China National Radio says the capital's population of permanent and non-permanent residents stands at 22 million, and the authorities are hoping to bring the number down to the ideal figure of 18 million by 2020.
One home unaffected by the restriction on foreign help is a villa in Shunyi district, the residence of a European diplomat, her husband and their two dogs. The diplomat, who can only be identified as "Julie" because of her office's media policy, specifically looked for a Filipino housekeeper when she was assigned to Beijing in 2006. She found Judy, a vivacious mother of two and a trained midwife from the northern Philippines.
Julie was posted to Manila a decade ago and her positive experience with the local help has stayed with her. "We know their standards, that they are very reliable We have Western housekeeping standards, we look at things similarly," she says. "English is also a bonus. We can send text messages to each other."
English is the language of everyday communication and the medium of instruction in the Philippines. Many Filipinos who work as helpers overseas are in fact college graduates - teachers, nurses, engineers, medical and IT professionals - who accept an unskilled job in exchange for better pay and a better life for their families. Remittances by overseas Filipino workers constitute at least 10 percent of the country's gross domestic product, according to media reports of figures from the Central Bank of the Philippines.
In the past four years, Judy has become more than Julie's cleaning lady, cook and laundry woman; she is practically part of the family, whom the diplomat offered to take along to her next overseas assignment in the fall. "If Judy is coming with us, we'll feel much more comfortable," Julie says. The exceptional employer-employee relationship has also inspired five of Julie's diplomat friends to hire Filipino housekeepers or nannies.
Foreign help in Chinese mainland households is a privilege of diplomats and employees of international organizations such as the United Nations and the World Bank, various sources say. These offices obtain work visas for the helpers, processing the paperwork directly with related Chinese government departments, they add.
To try and level the playing field, housekeeping agencies in Beijing are now giving their workers English lessons, besides training in cooking, cleaning and child rearing. Phil Fan, executive manager of Beijing Ayi Housekeeping Service, established in 2002, introduced an English program for their ayi in 2008 after noticing the demand for English-speaking helpers. Fan says 80 percent of their 1,000 clients in the past eight years have been expats.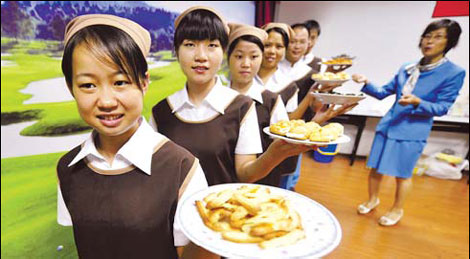 Thirty-six so-called "golden housekeepers" receive training in etiquette, computer skills and others in Hangzhou, Zhejiang province. Li Zhong / China Daily
Interestingly, the agency's ayi pushed Fan for English lessons. "A number of our ayi want to study English because they know it's important for their advancement, so they can earn more," he says.
For Chinese helpers, knowledge of English translates into a monthly salary of as much as 3,000 yuan, 35 percent more than non-English speakers can get. Also, "they want to get a chance to go abroad with their employers", Fan says. To date, close to 300 of Beijing Ayi's housekeepers have undergone its two-month English language course; more than a 100 have done so at Angel Housekeeping.
Managers of both agencies admit they still get customers who specifically ask for Filipino helpers. Angel Housekeeping's Chen says he gets "more than 10" such calls in busy months. Fan says these are mostly from people who have lived in Hong Kong, Taiwan and Singapore and have experienced a Filipino housekeeper.
It was no surprise then that both Fan and Chen enthusiastically said "yes" when asked whether they would employ Filipino helpers if government policy allowed it.
Chat Herbacio, a spiritual leader in the Beijing Filipino community, says many Filipinos wish their government could negotiate with the Chinese to open the mainland to foreign domestic helpers.
"They want to work here lawfully and are even willing to pay a special tax if the government will require it, just like in Hong Kong," says Herbacio, herself once a domestic helper in Hong Kong and Macao.
Meanwhile, the Philippine government is working with the Chinese authorities to implement domestic labor laws and prevent foreign workers from becoming victims of scams or of their own ignorance. An official with the Philippine Embassy in Beijing says the embassy "and other relevant Philippine government agencies [continue] to inform overseas Filipino workers to be wary of illegal Chinese and Filipino recruiters who offer jobs as helpers or nannies in China because these jobs are not open to foreigners".
Zhang, the real-estate agent, is thus forced to take comfort in talents closer to home. Between puffs on her Salem lights, she talks about a "perfect" Chinese ayi employed by a French-Chinese couple in Beijing. She says she has already told the couple to add her name to their housekeeper's "waiting list" in case they leave China. Clearly, the search for a good ayi requires serious effort.