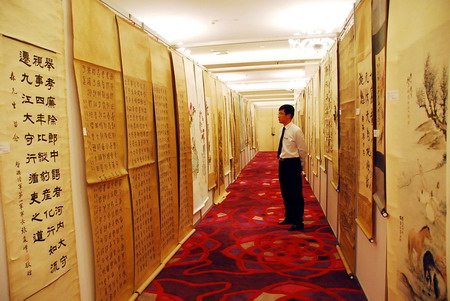 Enjoying ink work at an art market inside a hotel in North China's Shenyang city. In spite of the global financial crisis, the country's art market continued to blossom last year with traditional Chinese art, especially of the ink variety, becoming a new focus for investment. [Wen Xuan / China Foto Press]
China, which produced more dollar billionaires than any other country apart from the United States last year, is set to see a booming art market in 2010 when wealthy people in the country look to diversify their investments to avoid their portfolios being damaged by inflation.
A Hurun report tracking the investment inclinations of China's wealthiest citizens in 2009 released earlier this year showed that buying art pieces had become the fourth largest investment for this elite group and about a quarter of them were interested in collecting traditional Chinese paintings and calligraphies.
In spite of the global financial crisis, the country's art market continued to blossom last year with traditional Chinese art, especially ink art, becoming a new focus for investment, while contemporary Chinese artworks, which suffered a market crash at the peak of the financial crisis, languished.
Last year saw several price records broken at auctions of Chinese art. Four pieces fetched more than 100 million yuan each. The total value of the country's autumn auction in 2009 reached 15.65 billion yuan, surging 105.3 percent from a year earlier. The entire value of the 2009 auctions climbed to 22.53 billion, up 11.94 percent from a year ago.
"The trend is crystal clear. Wealth in Asia is migrating to art and lifestyle purchases," said Andrew Foster, Asia president of renowned auction house Christie's, said in a statement.
Related readings:


 Picasso work sets world art-auction record


 Cleaners paint over priceless art


 Fake art fools don out of 230k


 Art education should be child's play

A survey on Chinese art market sentiment conducted by Artron.net, the country's largest portal website for fine art, said some 69 percent of the respondents believed artwork prices would go up in 2010.
While people are increasingly concerned that severe inflation might develop after the country adopted a loose monetary policy last year in the fight against the financial crisis, the most wealthy are thinking about ways to maintain the value of their assets. Over the past few months, the price of risk-averse products including gold, jewelry, artwork and other luxury goods rose steadily.
Furthermore, analysts said that with hot money - betting on the appreciation of the yuan - continuing to flow in and finding channels for investment, the country's art market is likely to embrace a thriving season this year.
"Wealthy Chinese are restructuring their investment portfolio this year. If there are refined and rare works in the market, a new round of record breaking auction prices is likely to emerge," Zhang Shuo, a spokesman for Shanghai Contemporary Art Exhibition, wrote in an article.
Another noticeable phenomenon in the art investment market is the involvement of financial institutions. Financial services including artwork options, artwork mortgage loans and artwork entrusted investment were launched to accelerate the development of China's art market.
Partnering with world famous auction houses including Sotheby's, Chinese banks are introducing artwork investment to their high-end clients in the private banking division.
Wang Jing, executive director of China Merchants Bank's private banking unit, said the bank was designing different artwork investment models catering to Chinese investors' appetites. Some are designed to limit investor's risk exposure to artwork investment.