Blood testing problems and shortage of donors is causing concerns for Chinese hospitals.
Flaws in the blood screening system are causing "a handful" of people to contract HIV through clinical blood transfusions every year, a senior health official has revealed.
Hao Yang, deputy director of the Ministry of Health's disease prevention and control bureau, made the statement when announcing plans to revamp the existing testing systems.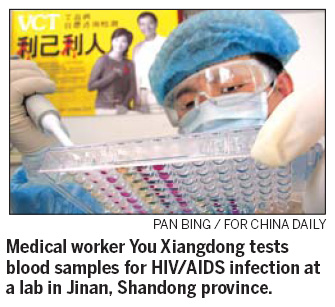 "Each year, fewer than 10 people on the Chinese mainland contract HIV through blood transfusions, largely due to the limitations of the testing method in use now," he said. However, his figures are based on reported cases and analysts suggest the number could be higher.
The news comes at a time when experts say donations of blood and blood plasma are down dramatically, causing a shortage in both hospital supplies and vital drugs for hemophiliacs that the plasma is used to make.
At a training program held by Tsinghua University and the Bill and Melinda Gates Foundation last Saturday, Hao said the ministry will continue to strengthen the screening mechanism to reduce the risks, including introducing RNA (ribonucleic acid) tests.
"The RNA tests look for genetic evidence of HIV and (can) detect the rare, early infections that the current antibodies tests fail to detect during what some call the 'window period'," he said.
Hao said the new tests will cost up to an extra 1 billion yuan
($146 million) a year, said the official, "and we are currently trying to convince the central government to increase our budget".
Zhao Minggang, deputy director of the ministry's department of medical administration, warned the public to be "highly cautious" about receiving blood transfusions from hospitals due to the risks of contracting diseases such as HIV and hepatitis.
"The limited technology now being widely used to test blood supplies cannot detect HIV antibodies during the first three months of infection," he said during a press conference. "This is not just a challenge being faced by China but by many countries. Blood transfusions should be used as a last resort."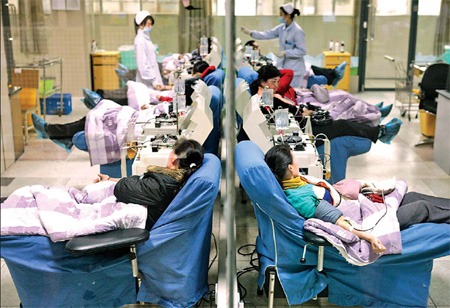 Villagers from across Yunxian county in Hubei province donate their blood plasma at the county collection center. China's plasma donors are usually rural residents from poor regions. Yang Shizhong / china daily photos 
The risk of being infected with HIV from a blood transfusion is estimated between 1-in-38,000 and 1-in-300,000 depending on the amount of blood used, according to international studies.
In China, people who contract HIV and AIDS through blood transfusions have no legal claim for State compensation because the technology is deemed beyond the control of the government. Also, patients are asked to sign a consent form stipulating the risks before any such procedure.
Related readings:


 74 infected with HIV through blood transfusions


 Ban removed on foreigners with HIV/AIDS


 China mulls routine HIV test for pregnant women


 AIDS and the elderly: More elderly afflicted with HIV
"Once in wide use, the RNA tests will substantially reduce infections and safeguard public health," said Hao.
Besides screening becoming more accurate and faster (results from RNA tests take just 20 minutes), they will also be made more available nationwide thanks to plans to expand the 7,300 voluntary clinics currently offering testing and counseling, he said. "We hope to expand into 70 percent of community clinics in every Chinese city."
People currently have to wait about a week to get the results of a test at one of 80 designated laboratories.