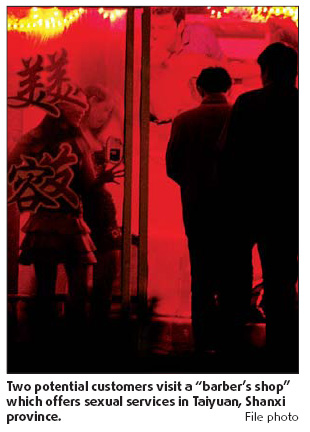 There is a worrying increase in the number of elderly people diagnosed with HIV and AIDS, with the highest infection rate among prostitutes and their clients, senior health officials have revealed.
Although no official figures are available, Hao Yang, deputy director of the Ministry of Health's disease prevention and control bureau, said cases involving men and women aged 60 and over have risen by several hundred since 2007, particularly in southern China.
In the southern metropolis of Guangzhou alone, infections among people aged 50 or older are up to more than 100 a year, officials said.
The revelation highlights a possible oversight in AIDS prevention policies, which for many years have focused on younger age groups and migrant workers, experts said.
Of the 320,000 HIV-infected people in the country, 70 percent are 20 to 49 years old, the health ministry said last October. However, Hao told China Daily: "Old people have not been a priority in HIV and AIDS prevention and control campaigns, but they should be paid more attention."
Given the country's limited capacity for epidemic monitoring and reporting, the rise in infections among elderly men could even be much worse than doctors think, he said.
Due to constantly improving conditions, the Chinese are living healthier and longer, which Hao explained means more seniors, particularly men, are staying sexually active longer.
"Some of them turn to prostitutes but they face a high risk of HIV/AIDS. A great number do not use condoms," he said.
Outside an AIDS support clinic in Guangzhou, 70-year-old Zhong Ping - not his real name - was seated with dozens of others waiting to see a doctor.
He was diagnosed as HIV-positive last year and told China Daily he thinks he was infected after sleeping with women at a "sauna" in 1999. "I didn't use any protection," he said.
Alongside him in the queue at Guangzhou No 8 People's Hospital, the only hospital in Guangdong with a special AIDS unit, were parents with babies and small children, a prisoner in shackles escorted by a police officer, a young pregnant woman, and a couple in their 70s.
Related readings:


 China to have radio program hosted by HIV carriers

 HIV carrier to host national radio program


 Group: HIV/AIDS among top crises of 2009


 China's HIV/AIDS total to hit 740,000


 Govt-backed gay bar opens
Sex has overtaken intravenous drug abuse as the most common method of HIV transmission in China. Of the 48,000 new cases reported in 2009, about 70 percent were infected through heterosexual or homosexual sex, according to China National Radio.
Cai Weiping, director of the infectious disease department at No 8 People's Hospital, warned that the deadly virus is spreading fast among the country's elderly population.
"I am seeing more elderly patients year by year," he said, adding that seven of the 39 people hospitalized with HIV at his unit last year were aged 58 or above, with the oldest being 73.
"The oldest patient we have tracked is a 94-year-old man. Study of his development has found he was most likely infected by sex," said Xu Huifang, director of HIV and AIDS Control and Prevention under the Guangzhou Center for Disease Control.
The situation in the southern metropolis is being echoed in most other regions of the country, said Hao at the Ministry of Health. However, both Hao and Xu declined to reveal the exact size of the elderly HIV positive population.
Some experts have put the nationwide rise in cases down to the improved blood screening programs introduced since 2006, when hospitals began to give all patients blood tests before surgical procedures, such as cancer and heart operations.
"As older people are more prone to major diseases than youths, they are more likely to receive a HIV test, meaning they have a higher chance of testing positive," said Wang Ning, deputy director of the National Center for AIDS and Sexually Transmitted Disease (STD) Control and Prevention.
The fact that the majority of China's 740,000 HIV and AIDS patients are aged 20 to 49 shows they are "still the biggest hit groups, rather than the elderly", he said.
However, other experts disagree and instead blame the rise in infection among older people on abundant and cheap commercial sex, as well as an increasingly active gay community.
Campaigners have urged health officials to roll out more safe sex awareness programs targeting the elderly. Most programs and events currently only target young adults on college campuses or at nightclubs, they said.