Sichuan quake rebuilding efforts leave man with fond memories
PENGZHOU, Sichuan - In the northwestern region of this southern province lie seemingly endless fields of the famous Sichuan pepper, juicy cucumbers and other rich farm produce.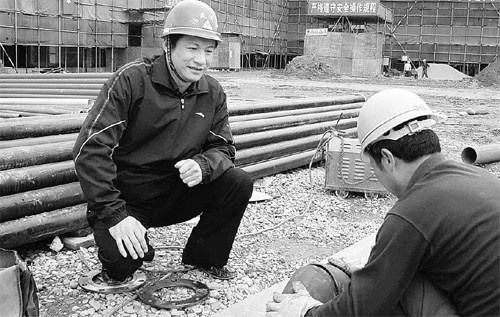 Sun Jianping (left), who is responsible for coordinating human resources, projects and capital sent from Fujian province to help Pengzhou recover from the 2008 Wenchuan quake, works on a construction site in Pengzhou. [China Daily] 
For locals and visitors, it is hard to believe that the area was part of the devastation wrought by the 8.0-magnitude quake on May 12 just two years ago.
In Pengzhou of Sichuan province, a new agricultural center also stands almost completed.
Related readings:


 On the 2nd anniversary of Wenchuan quake


 Village reborn after Wenchuan quake


 Lasting legacies from Wenchuan to Yushu


 Quake-ravaged Wenchuan incomes exceed levels before the disaster

"If things go well, consumers in Chongqing, Beijing and Anhui will be able to purchase vegetables produced in Pengzhou by this November," said Weng Haihui, assistant chairman of the company investing in the project.
When the quake hit Sichuan's Wenchuan county in 2008, Pengzhou was also extensively damaged.
The quake killed more than 69,000 people and left 18,000 missing.
Now, two years later at the site of the new center in Pengzhou, a man is seen wearing a red hard hat and blue jacket, his sneakers tainted by dust and mud.
Sun Jianping, 48, is the man responsible for getting the 2.4 billion yuan ($351 million) to help Pengzhou recover from the quake. The agricultural distribution center is only a small part of it.
"I am witnessing the enormous development in Pengzhou and I cannot be more proud of seeing her get back her former glory," Sun said.
Sun heads the office of the rescue team sent by Fujian province to help Sichuan quake victims. He came to Pengzhou in June 2008, only weeks after the earthquake.
Since 2008, Fujian has sent 140 people to Pengzhou. The team has taken part in 143 support projects with a total investment of 3.33 billion yuan. The projects cover re-employment assistance, technological aid, education, health and security. By this March, 100 of the projects had been completed.
"At first, I did not dare to tell my parents that I went to Sichuan because there were a lot of aftershocks," Sun said.
Since Sun's parents were old and suffered from heart disease, he did not want them to worry. So he simply told them he was going on a long business trip.
In Pengzhou, Sun was responsible for coordinating human resources, projects and capital sent from Fujian. With his help, the rescue team built new hospitals, art museums, TV stations, secondary schools and new bridges in Pengzhou.
"The day-to-day recovery operations count on Sun," said one of Sun's colleague. "He is such a easy-going person with a solid work ethic."
Before going to Pengzhou, Sun worked for the government of Fujian and was in charge of foreign economy and trade. With his background in economics, Sun decided that the quake reconstruction should include long-term support from the business sector.
As a result, Sun pushed for business investments from companies based in Fujian. He invited more than 200 enterprises to consider investing in Pengzhou.
With his efforts, 26 Fujian-based companies signed investment contracts with local businesses in Pengzhou. Another 21 Fujian enterprises invested in other regions in Sichuan.
"It was pretty hard at first," Sun said. "Many business owners lost interest immediately when they heard the projects were in southwestern China, which is a less-developed area."
But Pengzhou had its own advantages and Sun knew how to use them. For example, the Yonghui company had its eye on Pengzhou's vegetables and the company invested 120 million yuan to open a processing and distribution center in Pengzhou. When the center is built, it will supply vegetable products to the company's 200 supermarkets in Bejing and Chongqing.
With its 446.7 square km of fields, Pengzhou has more than 30 years of history in being one of the five largest vegetable growing bases in China. The processing center will also increase the income of more than 2,000 households in Pengzhou.
"My working hours extend to the day and night. Now I cannot fall asleep without sleeping pills," Sun said.
Before going to Pengzhou, Sun was in good health.
But high work pressure and poor working conditions were not the real reasons Sun had insomnia. His worries came from his family situation.
Sun's parents are both in their 70s. Both are in bad health and have to be hospitalized constantly. Sun, as the eldest of four children, has been shouldering the responsibility of taking care of his parents. Sun's wife also fell down the stairs and suffered a brain hemorrhage before Sun left home for the quake zone.
"My wife gave me a lot support," he said.
For two consecutive years, Sun called home every day. But his worry only grew as time passed by. Last August, he told his younger sister who lived in Nanping, Fujian, to go to Fuzhou and take care of their parents.
But his sister died in an accident on her way to Fuzhou. When he heard the bad news, Sun burst out crying in his office in Pengzhou.
"Her death came as a big shock," Sun said. "I feel very guilty about it."
Now that Sun and his team have completed most of the reconstruction work, they will go back home in September.
Looking back on his days in Sichuan, Sun said: "The two years in Pengzhou have been unforgettable. My skin turned dark. I could not sleep. I lost a family member. I became old. I got a kidney stone. But quake reconstruction is my special mission.
"I will never regret coming here and doing what I did.
"Now I can imagine myself showing off by telling the stories of Pengzhou to my grandson, when I am retired."