Animal carcasses and hazardous waste still being removed from area
BEIJING - Almost a month after a 7.1-magnitude earthquake devastated Yushu county in Northwest China's Qinghai province, residents and officials are still removing animal carcasses and other environmentally-hazardous waste to prevent ecological damage in the area as well as to protect the water supply.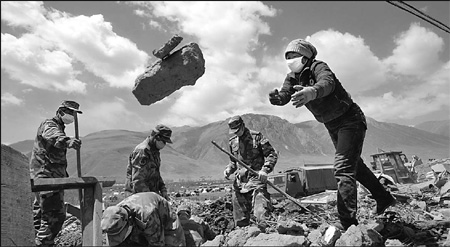 A resident of Gyegu township of Yushu, Qinghai province, clears up the ruins of her house with assistance from armed police officers on May 1. Shen Bohan / Xinhua
Since reconstruction work began, officials said the quake had not damaged the water and soil in the Sanjiangyuan region, the source of China's three major rivers: the Yangtze, Yellow and Lancang.
Yushu lies in the heart of the Sanjiangyuan region, nicknamed "China's water tower", and sits at an average altitude of more than 4,000 meters.
Related readings:


 After quake, Yushu farmers stick to their land


 China raises $730 million for quake-hit Yushu


 Yushu reconstruction to be finished in 3 yrs


 Yushu-we're with you forever
"The vegetation, the biodiversity and the ecosystem in Yushu remained intact after the quake," said Ren Jie, an official with the provincial environmental protection department.
Officials with the local animal epidemic prevention and monitoring center have kept a close watch since the quake, on the lookout to prevent pollutants released by the quake from entering waterways and threatening Sanjiangyuan's ecology.
Some 20,000 leaflets in Tibetan and Chinese were distributed, urging local residents to report any animal carcasses. As of April 30, nearly 43,000 sheep, cattle, dog and horse carcasses had been disposed of in a biologically safe way, local authorities said.
Two open fields, far from water reservoirs, were chosen as sites for the burial of quake rubble and garbage.
After animal plagues, glacier shrinkage and grassland degradation began to affect Sanjiangyuan in the 1970s, the government launched a 7.5-billion-yuan ($1.1 billion) project in 2005 to preserve the region's ecology. It was and remains China's largest ecological conservation project.
From 2005 to 2010, more than 20,000 Tibetan herdsmen in Yushu migrated off the grasslands to protect the environment.
They suffered huge losses in the quake and may now return to pastures in Sanjiangyuan, according to Zhao Niannong, vice-director of Qinghai's agriculture and animal husbandry department.
The earthquake on April 14 left at least 2,200 people dead and more than 100,000 homeless.
"Problems concerning their livelihoods must be solved quickly, otherwise all the efforts to preserve the ecology over the past few years will come to nothing," Zhao said.
Local officials also recommended that a large number of quake-resistant greenhouses with heat preservation systems be built as part of the reconstruction program. They will supply vegetables and double land production in the high-altitude area.
In Yushu, 1,920 out of 2,270 greenhouses were damaged in the quake.
"One clear-cut principle in the rebuilding of Yushu is to fully preserve the local environment. The rebuilding plans and funds are also intended to help preserve Sanjiangyuan's ecology," Zhao added.
XINHUA