Cancer patient finds meaning by being mother to young quake victims
Chengdu - Wang Zhihang, 54, is a childless cancer patient in Chengdu, capital of Southwest China's Sichuan province.
But on Mother's Day this year, she received cell phone messages of love from more than 80 students disabled by the Wenchuan quake of May 12, 2008.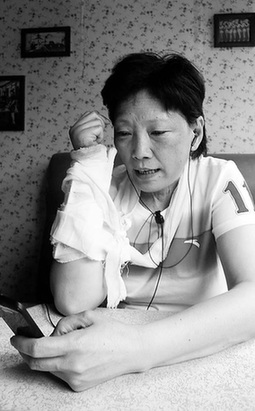 Wang Zhihang, 54, a resident in Chengdu, capital of Sichuan province, reads text messages sent by young Wenchuan quake victims she has helped. [China Daily] 
The students expressed their gratitude for the love and care that Wang provided for them ever since the 8.0-magnitude quake hit the province.
Ren Ni, a 10-year-old pupil in Nanba Primary School of Pingwu county who had her right leg amputated because of the quake, said:
"Dearest adopted mother, I love you."
"Please take a good rest and remember not to tire yourself out when helping us."
"All the children aged from 7 to 9 feel close to me," said Wang, who visits more than 100 students in their schools and homes, sending them what they need and helping them in any way she can.
The quake killed more than 69,000 people and left 18,000 missing.
"Only those who do not have cell phones to use could not send me Mother's Day messages," Wang told China Daily.
"The quake changed my idle life into a meaningful one."
As a pensioner, Wang gets a monthly income of 1,000 yuan ($147).
She was a big mahjong fan and like many Chengdu residents, she would play the game all through the night and get up in the afternoon.
"I liked mahjong so much I could also watch people play it all night," she said.
After the quake shook Chengdu, which is about 90 km from the epicenter in Yingxiu town of Wenchuan county, Wang was worried about finding a shelter on the first day because almost all the people in the provincial capital feared devastating aftershocks in the city.
Wang calmed down the next day and returned home to watch any new development on TV.
"I found out that tens of thousands of people perished. I wept all day in front of the TV set and decided there and then to volunteer and help people in need."
She went to the emergency center of the Sichuan Provincial People's Hospital where nurses were badly needed as an increasing number of quake victims were sent in.
Wang, who worked as a nurse in an army hospital in Chengdu in the early 1970s, cleaned the wounds of 14 quake victims in two wards, comforted them and taught their family members how to take care of them.
In the next few months, Wang stayed every day in different hospitals in Chengdu where quake victims were treated. She met many victims who had lost one of their limbs in the disaster. But she was shocked to find a number of students who had lost two limbs.
"When I saw Li Anqiang that July, I was determined to help children disabled in the quake, for the rest of my life," Wang said.
Standing 1.74 meters tall before the quake, Li, 18, now reaches 87 cm without his artificial limbs. He lost both legs after he was pulled from the rubble of the Beichuan High School in Beichuan county in northern Sichuan.
Touched by his resolve to face the suffering, Wang called him "Qiang Qiang" which means "strong" in Chinese.
She also used her story to motivate him to be stronger.
At 14, Wang herself was diagnosed as suffering from thyroid gland cancer. In 1993, she had a relapse. With the gland removed, she could not resist diseases and caught cold almost every day.
Her story had an effect on Li. Three days after arriving in a hospital in Chengdu, the boy, who had endangered himself under quake rubble to help a classmate escape the disaster unscathed, was brave enough to shampoo in the toilet of his ward himself.
After Li and other disabled students with artificial limbs returned home to prepare for the new school term, Wang continued to them.
"I go to different cities and counties hit by the quake by bus at least twice a month," she said.
She has spent all her personal savings of 110,000 yuan ($16,200) as well as donations of 70,000 yuan from relatives and friends, on travel expenses and gifts for the students including schoolbags, clothes and sneakers.
For two consecutive years after the quake, she also invited several disabled students to spend Spring Festival in her home in Chengdu.
A second grader in the senior high school section of Beichuan High School, Li is also the top scorer in his class.
The boy said he has to study harder to enter a good university next autumn so that he can earn lots of money to support his poor family and his adopted mother Wang.
Almost all the boys who lost both limbs in the quake do not dare to befriend girls, while the disabled girls do not believe any healthy boy will love them, Wang said.
Zhang Feng, 18, another student in Beichuan High School, told Wang a healthy classmate often offered her help. He said he loved her but she did not want to accept the love because she did not want to be a burden to any man.
Wang replied: "As you are not rich, the boy's love is pure. If his parents do not oppose your relationship, you can accept his love and lead a life just like other people."
Wang herself keeps a blog and uploads pictures of children who are optimistic and never give up, to encourage other quake victims.
Wang is happy because the children love her. Whenever she goes to schools in the quake zone, children rush to pay for her meals in the school canteen and canteen operators insist that she dines free.
"That's because Mother Wang is a nice person," a cook in the school said.