Chinese chef reaps rewards from cooking extremely toxic globefish
Beijing - When Lu Jun goes to work, he puts his life on the line.
But Lu, 38, is not a policeman chasing down criminals or a firefighter saving people from burning buildings.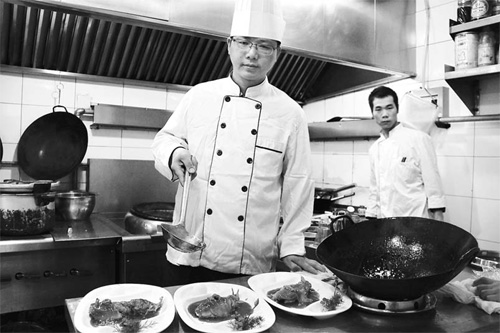 Chef Lu Jun (left) serves up dishes of hetun, a highly poisonous fi sh, at his restaurant in Beijing. [China Daily] 
He is a chef in a traditional Chinese restaurant in Beijing - with a license to prepare hetun, the highly poisonous Chinese globefish.
Many foodies maintain that hetun ranks among the best Chinese culinary experiences. Similar to the "fugu" eaten in Japan, hetun has enjoyed great fame in China for nearly two millennia.
Hetun has always been a rare and intriguing delicacy in China because preparing it improperly can be fatal. The fish is one of the most toxic organisms in the world and is so dangerous Chinese authorities regulated its sale and consumption in 1982.
Traditionally, Chinese chefs take the first bite after cooking their hetun to make sure the poison has been neutralized. Many popular chefs avoid cooking hetun because of the risks involved.
But Lu rose to the challenge when he was 16 years old. "Nothing ventured, nothing gained," he told himself.
His hometown of Jingjiang, a county-level city once under Yangzhou in Jiangsu province, is located along the middle reaches of the Yangtze River, the country's longest river. Jingjiang is also a major place of origin for hetun dishes.
To attain the required level of expertise for preparing the delicacy, Lu had to put himself through strenuous training.
He spent a whole year trimming vegetables and washing pots and pans before he was taught how to prepare hetun.
"For the whole year, my work mostly involved standing beside the stove and waiting for my teacher to pass the wok to me for washing," Lu said.
He finally got the opportunity to actually touch the hetun in his teacher's kitchen a year later. That was when he also displayed great aptitude for cooking, including preparing hetun.
"I started eating hetun as a child. Instead of fear, I felt a sense of familiarity with it," Lu said.
Lu's grandfather was a "folk master" in cooking hetun himself and Lu remembers feasts of hetun as a child.
But according to custom in his hometown, invitations for eating hetun were not announced publicly because of the high risks involved in the dish.
"You just told the person you wanted to invite that you were going to cook hetun and he would understand that was an invitation," Lu said.
The 16-year-old Lu found out gradually that the skills for preparing hetun taught by his teachers in formal restaurants were not that different from those of his grandfather.
Childhood experience and his special talent for cooking helped Lu become an outstanding hetun chef. He was even known as the "Hetun Prince" for his amazing skills in Jingjiang.
In 2001, Lu's fame hit a higher level when he was entrusted with serving hetun to then Chinese president Jiang Zemin.
Lu said he was not told whom he was cooking for at first. It had become a habit for him to treat each dish very cautiously since he began preparing hetun.
"I tried the dish after I finished cooking it. A local official also tasted it. Then they kept a sample and took away the dish," he said.
Lu was informed about his important diner later.
"I became more famous for cooking hetun in my hometown after that Jiang grew up in Yangzhou and it is natural that he missed the local food," Lu said.
Later in 2001, he earned his license No 001, an industry qualification for cooking hetun given out by the local authorities in Jingjiang, as a compliment to his skills.
Lu began specializing in hetun in Beijing and Shanghai restaurants and started his Andingmendong Dajie No 56 Courtyard restaurant in 2007 in the capital.
"The hetun's ovaries and liver are the poisonous parts. These should be carefully picked out without crumbling them," Lu said.
The hetun should be braised in high temperature, with the cooking carefully controlled to maintain its texture and taste.
Mainly three species of hetun are cooked in China, as different species have different levels of toxicity, he said.
The fish can braised in soya sauce or stewed.
But as breeding non-toxic hetun becomes popular, many say cooking and eating hetun is not as risky as before. Lu said 95 percent of hetun offered by restaurants are also bred, including the one he serves up in his restaurant.
Of course, preparing hetun is still something unqualified cooks should not try.
"It mainly depends on a chef's experience," Lu said.
"Practice and courage are also required."