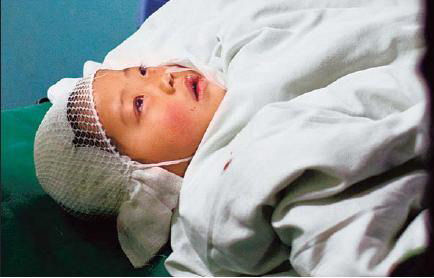 A child receives treatment in a hospital in Taixing of Jiangsu province on Thursday. [ALEXANDER F. YUAN / AP]
TAIXING, Jiangsu - Parents should consider taking extra steps to protect the safety of their children, a security expert said following the second mass stabbing of students at a school this week.
Safety around schools has been strengthened and police in Beijing will be on patrol when students go to and leave schools, and some schools in the city will not let students leave unless parents come to pick them up.
Related readings:


 Kindergarten children injured in knife attack


 19 injured in knife attack at primary school


 Canteen staffer hurts 4 students with knife


 One dead, two injured in campus knife attack in SW China
The latest moves come after a knife-wielding man stabbed 29 children at a kindergarten on Thursday in Taixing of East China's Jiangsu province.
Five of the children are in critical condition and the rest are stable. No deaths had been reported as of Thursday night, said Sun Yun, deputy mayor of Taixing.
Two teachers and one security guard were also injured after the 9:40 am attack.
An initial police investigation said the suspect, 47-year-old Xu Yuyuan, was an unemployed local resident who once worked in a local insurance company and was fired in 2001.
Zhang Hong, a professor with the Chinese People's Public Security University, said parents should let their children take school buses instead of walking or riding bicycles.
For children without access to a school bus, parents should take them to school and pick them up themselves, especially in a city environment where the security situation is not good, Zhang said.
He advised schools to open their gates and let school buses go directly into the campus, instead of dropping kids outside the gate.
Parents and schools should also educate children about security, so if something happens they have the tools to protect themselves.
On Thursday, police said Xu broke into the kindergarten's No 2 classroom wielding a 20-cm knife used to slaughter pigs and attacked the children and adults.
A security guard who tried to stop the man from entering the kindergarten was among the injured.
Xu cut at the throats and heads of the children, according to Sun. The injured are between 4 and 5 years old. Two kindergarten teachers were also injured.
Xu was arrested on the spot. The motivation for the attack is still under investigation.
The Taixing Central Kindergarten is a renowned kindergarten in the city, but parents began to doubt its management after the accident.
"Management of the kindergarten is not strict enough. Its gate is always left wide open," a victim's father named Wang Renguo said.
This is the fourth such school stabbing reported in China in a few weeks.
On March 23, Zheng Minsheng, 42, a former community clinic doctor, stabbed eight primary school children to death and seriously injured five others in Nanping, Fujian province.
An investigation found Zheng acted out of frustration at failures in his romantic life and in society.
On April 28, 33-year-old art teacher Chen Kangbing broke into a primary school in Leizhou of Guangdong province and stabbed 15 students and one teacher with a fruit knife.
"Students don't have much ability to protect themselves. So some adults will target weak children instead of people more powerful than themselves as a way to vent frustration," said Zhu Li, a professor with the school of social and behavioral sciences under Jiangsu-based Nanjing University.
"I have no hatred toward the students I stabbed. I chose them only because they were weak and vulnerable. I wanted to have a big influence among the public," confessed Zheng, who was executed on April 28.
"Zheng sets a very bad example for copycats. Some people may not have thought about stabbing school children, but due to the media's coverage of such a case, they got an idea," Zhu said. "But we shouldn't blame the media. They just reported the facts."
Zhu also said there are many people living in the lower strata of society and more should be done to care for them.
"If they get desperate and can't get help from others, like mental guidance and physical support from families or community workers, it's possible for them to do something with serious consequences," he said.
"Our society should set up an effective mechanism to help these people."
Xinhua contributed to this story