TAIXING, Jiangsu - Twenty-eight children and three adults were injured when a man with a knife attacked them at a kindergarten in east China Thursday.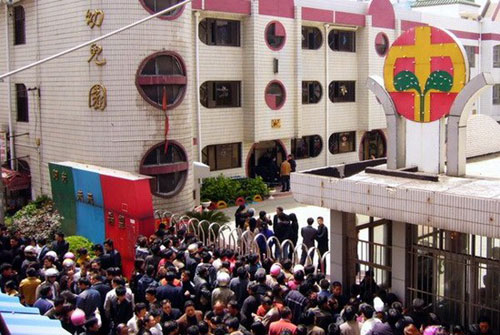 Zhongxin Kindergarten is seen in this picture taken on April 29, 2010 after the knife attack which left 28 children and 3 adults injured in Taixing City, Jiangsu Province. [CFP]
Five of the children are critically ill in hospital after the attack in the Zhongxin Kindergarten in Taixing City, Jiangsu Province, said city government and police sources.
Related readings:


 Latest school stabbing re-ignites safety concerns


 17 injured in knife attack at primary school


 School stabbing killer executed in E China
The man broke into the kindergarten's No.2 Classroom wielding a 20 cm long knife and attacked the children and adults, the police spokesman said. A security guard who tried to stop the man entering the kindergarten was among the injured.
The injured children are around 4 years old. Two kindergarten teachers were also injured in the attack.
Police have detained a 47-year-old man alleged to have carried out the attacks at about 9:30 a.m., said a Taixing Police spokesman.
Initial police investigations have identified the man as Xu Yuyuan, an unemployed local man. He had been a salesman in a local insurance company until he was fired in 2001. Since then, he has remained jobless, and taken part in some pyramid schemes.
This was the second knife attack on children in China in two days. A man attacked 16 pupils and one teacher with a knife at a primary school in south China's Guangdong Province Wednesday afternoon.
Five of the injured children in the Guangdong attack case are still critically ill in hospital Thursday morning. The man identified as Chen Kangbing has been detained by police in Leizhou City of Guangdong.