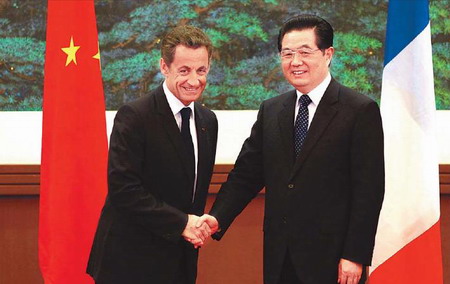 President Hu Jintao greets his French counterpart Nicolas Sarkozy in the Great Hall of the People in Beijing on Wednesday. [Xu Jingxing/ China Daily] 
Hu will visit France in fall; leaders hold talks on Iran, financial reform
BEIJING - China and France on Wednesday pledged to draw a line under past tensions and breathe new life into their relationship by working together on issues from Iran to global monetary policy.
Related readings:

 Sarkozy to focus on 'comprehensive, long term' ties


 Sarkozy visit to boost relations


 Sarkozy faces heavy loss in French regional poll
In a joint appearance before the media after their talks, President Hu Jintao said his French counterpart Nicolas Sarkozy's second state visit to China had "opened a new page" in bilateral relations.
Hu also said he will visit France in the autumn, indicating Sino-French relations are back on track.
It is Sarkozy's first visit to China since bilateral relations hit a trough in 2008 when the Olympic torch relay was disrupted in Paris and Sarkozy met the Dalai Lama.
Hu is reported to have told Sarkozy during their meeting that "we should hold close consultations and strengthen political coordination on the reform of the international monetary system, climate change and other major issues".
Sarkozy pledged France will work with China - which has sought greater say for developing countries in world financial affairs - for a new multi-polar system when it assumes the rotating leadership of the G20 from November.
"We are going to prepare the French presidency of the G20 well in advance by thinking about a new multi-polar monetary order," he told reporters.
Iran's nuclear program was also high on the agenda at the leaders' meeting.
Sarkozy stressed the urgency of ongoing efforts to curb Teheran's nuclear program, saying new sanctions must be imposed if negotiations fail.
"China hopes to use dialogue. France completely understands China, and we are willing to discuss this problem together at an appropriate time," Sarkozy said.
"If dialogue does not work, then we can only use sanctions."