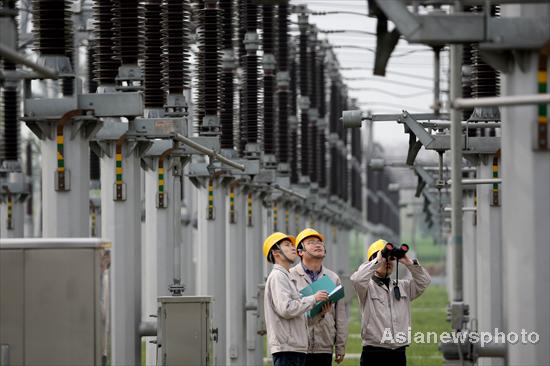 Workers carry out an inspection on the substation equipment in Huaibei, East China's Anhui province, April 25, 2010. [Photo/Asianewsphoto]
BEIJING - Tight supply, price hikes of thermal coal and drought in hydropower-generating region may lead to power shortage in central and southwest China during peak hours this summer, the China Electricity Council (CEC) said Wednesday.
Related readings:


 China's first million-kW hydro-power units expected by 2020


 Power use by energy guzzlers hit a new high


 Offshore wind power sets sail


 Nuclear power project kicks off in Hainan
China's electricity consumption jumped 24.19 percent year on year to 969.5 billion kwh during the Jan-March period of 2010, boosted by macro economic recovery, the CEC said in its quarterly analysis report.
"What we are facing this summer is a situation far from satisfactory," Xue Jing, director of CEC Statistics Department, said during a press conference held Wednesday in Beijing.
She said the electricity volume generated by hydro power plants might be affected by the current drought that rage southwest China while a 15 percent price hikes of thermal coal would add to the tension between coal producer and thermal power plants, which depend on burning thermal coal to generate electricity.
Limited railway transport capacity will also impair the supply of thermal coal in central and southwest China, she added.
The CEC estimated the country's electricity consumption growth will slow down in the coming months due to the varying bases of last year. The base was relatively low in the first three months in 2009 but rose steadily during the rest of last year.
China's electricity consumption will rose by 9 percent year on year to 3.97 trillion kwh in 2010, according to the CEC estimate.