Religious leaders make donations of money, time and relief supplies
YUSHU, Qinghai - A Sichuan-based Tibetan temple donated 11.27 million yuan to quake-hit Yushu county on Friday, including 10 million yuan from the temple's Tibetan living Buddha, Tripa Rinpoch.
"We had planned to use the money to repair our temple, but now, it is our responsibility to donate it," Tripa Rinpoch told China Daily.
"I see so many Han people and Tibetans carrying out the rescue and relief effort together, and I am deeply touched by them," he said.
The Sershul Temple, located in Ganzi of neighboring Sichuan province and 110 kilometers far away from Yushu, had also provided relief supplies worth about 1.2 million yuan, including 200 tents, food and water.
Hundreds, if not thousands, of Tibetan Buddhist monks in crimson cloaks and jackets have joined the soldiers and rescue workers since the afternoon of April 14.
"A total of 900 monks from our temple alone have joined in the rescue and relief work. The first group arrived at epicenter at 4 pm, a few hours after the earthquake happened," he said.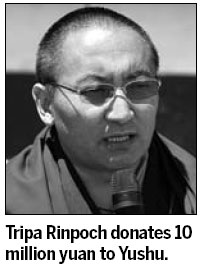 "We rescued more than 700 survivors, and helped find more than 1,000 bodies under the ruins."
Tripa Rinpoch said the monks have been chanting sutras every day since the quake, and will continue to do so for 49 days, which is considered a life circle in Tibetan religion.
The death toll rose to 2,187 as of Friday, nine days after the devastating 7.1 magnitude earthquake.
The number of missing fell to 80, and the total number of injured stood at 12,135, according to the figures released by rescuers.
"I prayed for the dead on the way to Yushu. We didn't bring any food as we tried to carry more tents for survivors that night," 20-year-old Tibetan Genpo Gya, who was among the first group of monks to reach Yushu, told China Daily on Friday.
"I slept with another 17 monks in one tent that night, as we wanted to share more tents with people who lost their house in the quake," he said.
Ngawang Kunkyap, a 19-year-old monk of Sershul Temple, didn't realize his fingers were bleeding after hours of searching for survivors under ruins.
"I used my hands to dig into ruins, and I continued my work even though those underneath clearly had to be dead. Finding their bodies still would be a comfort for their family members," he said.
The government showed high efficiency in the rescue and relief work after the quake, senior monk Dampa Rinchen told Xinhua.
"Tibetan monks have been active in helping whenever needed," he said.
The monks have also been praying and chanting for the residents and giving them religious and psychological support, he said.
The earthquake severely damaged the local Tibetan Buddhist temple in Gyegu, killing eight monks and injuring 22 others.
After being rebuilt, the temple will house quake orphans and be a center for old people without family, he added.
Yushu has 200 Buddhist temples. Three of its largest ones, including Gyegu Temple, have more than 500 monks.
Yushu is one of China's 10 Tibetan autonomous prefectures.
More than 90 percent of its 350,000 population are Tibetan and most believe in Tibetan Buddhism.
Qi Xiao contributed to the story.
(China Daily 04/24/2010 page4)