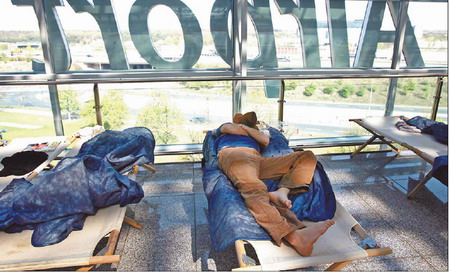 Stranded passengers rest on Monday at Frankfurt airport in Germany, which was closed because of a volcanic ash cloud from Iceland. [Agencies]
BEIJING -- A huge ash cloud spreading from a volcanic eruption in Iceland since Friday is likely to deal a blow to China's exhibition industry, with a majority of flights in Europe still grounded on Monday.
Related readings:

 Volcanic cloud closes air space over Balkans


 Volcanic ash halts much of North Europe air travel


 Volcanic ash disrupts air traffic in Europe


 Iceland fears 2nd, even larger volcanic eruption
April typically marks the beginning of the convention/exhibition season in the country, and Auto China 2010 -- an annual exhibition for global auto giants to promote new cars that was slated to start on Friday in Beijing -- now faces some uncertainty.
Senior managers from Europe were expected to arrive in Beijing no later than Thursday for the media day on Friday but now, nobody knows whether they can make it on time.
"I don't know how many of the European auto giants will finally show up on media day," said Zhang Hengjie, project manager of the international exhibition center, the show venue.
But the World Expo in Shanghai, scheduled to open in 11 days, will not be affected, organizers said.
European participants at the Expo, including those from Germany, Iceland, the United Kingdom and the Czech Republic, said their pavilions will operate as scheduled for the soft opening on Tuesday.
Most foreign pavilions have working teams stationed in Shanghai.
But Jos Frches, French commissioner general of the Expo, who was scheduled to fly to Shanghai over the weekend, was still stranded in Paris because of the air traffic ban. Three designers for the France pavilion's VIP lounge are also stranded in the French capital.
"We can do nothing but wait," said Franck Serrano, director of the France pavilion.
Organizers of the Spring Session of the International Chamber of Commerce Banking Commission, said the event to be held on Wednesday in Beijing has been put off indefinitely.
Some European exhibitors will not make it to Tuesday's electronic exhibition NEPCON China in Shanghai, said Messy Mei, communications manager of Reed Exhibition, a Singapore-headquartered exhibition event organizer.
Flights grounded
The European aviation control agency Eurocontrol said on Monday that it expects between 8,000 and 9,000 flights to operate in Europe, representing only 30 percent of normal flight traffic. On Sunday, only 5,000 of the 24,000 scheduled flights managed to take off.
On Monday, all flights to and from Europe by Chinese carriers were canceled, a spokeswoman for the Civil Aviation Administration of China (CAAC) said.
So far, at least 150 flights operated by domestic carriers have been canceled, and the situation might last for a few more days, she said.
The situation has turned many tourists' Europe travel into a nightmare.
Zhang Wei, general manager of the outbound department of China International Travel Service head office, said at least 200 tourists were stranded in Europe.
"We helped them find hotels, but they have to pay for accommodation.
"Airlines and travel services will not compensate tourists for disruption of their trips resulting from volcanic ash," she said.
Some tourists had to ask their family members in Beijing to go to the travel service's office and pay for the additional expenses, she said.
The chief of the International Air Transport Association (IATA) Giovanni Bisignani called for urgent steps to reopen airspace after five days of closures that have cost airlines $250 million a day.
Wang Chao, Wang Zhenghua, Cui Jia, Ma Zhenhuan and AP contributed to the story