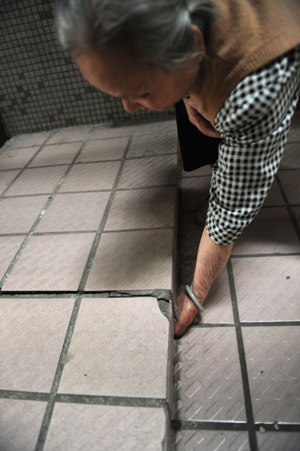 A resident inspects a crack in the fl oor of her Yuanlin residential community apartment in the Jinshazhou area of Guangzhou, capital of Guangdong province. LU HANXIN / XINHUA 
GUANGZHOU - Railway authorities will pay up to 30 million yuan ($4.4 million) in compensation after construction of a high-speed railway caused the earth to sink, damaging houses in parts of Guangdong's provincial capital.
The compensation would be used to rebuild the damaged houses and resettle residents, sources from the Guangzhou Bureau of Land Resources and Housing Management said.
More than 10 cases of the earth's surface sinking have been reported in the Jinshazhou housing estate since construction of the Guangzhou-Wuhan express railway began.
More than 1,000 residents from 263 families have been affected. Altogether, about 21,000 square meters of floor space in 10 residential buildings, a building at Jinshazhou High School and an underground parking lot have reported earth sinking and walls cracking since 2007, local media reported on Sunday.
A research report from Guangzhou Institute of Geological Survey concluded that the sinking in Jinshazhou was caused by the over-extraction of groundwater along with construction of the Guangzhou-Wuhan railway project.
The 1,069-km Guangzhou-Wuhan railway, China's first long-distance high-speed line, was launched on Dec 26, cutting travel time from 10 hours to just three hours between the southern metropolis and the capital of Hubei province.
"The water table was lowered after groundwater was pumped out for construction of the railway project," the report said.
Executives from Guangzhou Railway Group Company refused to comment on the case on Sunday.
But the Guangzhou Bureau of Land Resources and Housing Management said none of the buildings would collapse.
"They can still be used," said sources with the bureau.
The earth will no longer sink when all major industrial and infrastructure projects have been finished, the bureau was quoted as saying.
"As long as no other big underground construction is conducted and the underground water won't continuously be pumping out, the Jinshazhou region should remain stable," the bureau said.
However, a Jinshazhou resident, who only gave his surname as Liang, said he is really worried.
Liang said he has found big cracks in the ceilings and the outer walls of his home. "And the interior walls have also begun to peel off."
He said he is worried about the quality of his apartment.
Located in the western part of Guangzhou, Jinshazhou is a new residential area bordering the city of Foshan with a population of more than 100,000. Property prices in Jinshazhou have reached more than 12,000 yuan per sq meter.
In addition to supermarkets, bazaars, schools and kindergartens that have been put to use, a new hospital is also being planned in the estate.
Sun Guangmang, director of Guangzhou Institute of Geological Survey, said the complicated geology under Jinshazhou contributes to the sinking.
CHINA DAILY