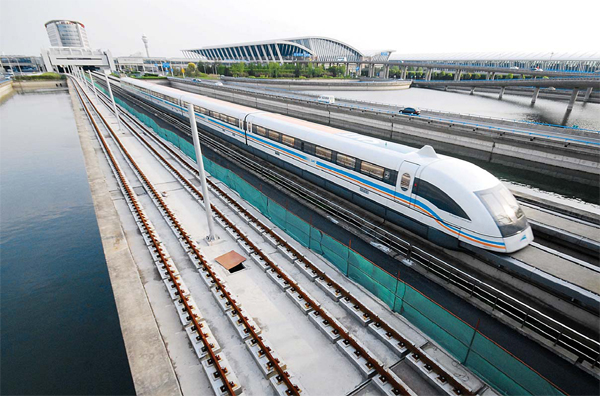 A maglev train leaves Shanghai Pudong International Airport heading to the city. Plans to extend the line to Hangzhou, capital of Zhejiang province, were stalled in 2008 after protests by citizens. NIU YIXIN/FOR CHINA DAILY 
Costs cause concern
Although officials in both cities hail the plan as an opportunity to strengthen economic cooperation, residents close to the proposed track say their concerns about noise and radiation pollution - the reasons behind protests in 2008 - have still not been answered.
People also questioned the logic of having two high-speed rail links between the same cities, especially as the maglev will be far more expensive yet only 10 minutes faster.
However, the escalating costs and lack of transparency in how taxpayers' money is spent is fueling some ardent opposition. The authorities are looking at an estimated bill of 22 billion yuan, while analysts say the Pudong maglev line, which has received 10 billion yuan in government funds, has yet to make a profit.
Critics cited the reaction to the Wuhan-Guangzhou high-speed link, which opened late last year to a chorus of complaints from poor migrant workers - the majority rely on China's rail network during the annual Spring Festival holidays - that tickets are "too expensive", the service is "unnecessary" and that many cheaper, slower services had been cancelled. (Officials in Guangzhou, capital of Guangdong province, recently said trains on the high-speed like are running at 70-percent capacity).
"I can't understand why we would allow such a large amount of public funds to be used for a money-losing machine that still does not have sufficient market demand," said Hou Xiaogang, who lives 25 meters from the proposed maglev route in Shanghai's Minhang district. "As taxpayers, we need to know where our money goes, but there seems to be no reliable information.
"Although the Ministry of Railways confirmed the (maglev) project has been approved, local authorities say it is still under feasibility studies. The official responses (to the public) have been rather murky and obscure, sparking speculation the government might be pushing ahead with the project yet keeping the public in the dark."

Sun Zhang, a Tongji University professor who is an expert on Chinese railways and a passionate proponent of maglev, backed high-speed links as a way for the government to grow the economy through investment in infrastructure.
"For a country with 1.3 billion people and an economy growing at about 8 percent every year, the need for transport and speed seems obvious. Just compare China and Germany: Germany is one-27th of the size of China but its railway network is 13.5 times longer than ours," he said. "People are questioning why China insists on introducing maglev lines while countries like Germany and Japan doesn't. If you look at China's sheer size, you'll know why. There just needs to be further agreement on the best way forward."
As China now does not rely entirely on imports and can produce parts needed for maglev lines, experts say the cost of manufacturing them is only 1.5 times that of high-speed lines.
"With the extension of the Pudong line, it could also help make better use of the current resources by taking passengers to a wider range of destinations and possibly reduce its deficit," said Sun. He admitted there was an "affordability" issue.
"The problem is China's economic development is not being matched by a rise in people's incomes," he added.
Yin Lu, a logistics analyst with Beijing-based Analysis Points Associated Consultants, agreed and said: "Trains are by far the most popular form of travel for the great majority who go back home (at Chinese New Year), so therefore they should be cheap and affordable. The government might consider subsidies for people if they want to promote high-speed travel."
Confidence in the Shanghai government's handling of the maglev situation was dented two years ago, said Hou, because both the project plan and environmental assessment report were posted for public opinion on "less popular" websites, which meant they went largely unseen by those affected.
Li, too, questioned the lack of transparency and said taking to the streets in protest again is still an option, but would be the last resort.
"It's a long and hard fight requiring wisdom and consistency," he said. "Luckily today we have many public means, like the Internet, where we can express our views. The problem is, even if we take prompt and legal means to voice our disagreements, there seems to be little progress in the official information disclosure."
Officials with authorities in Shanghai and Hangzhou were unavailable for comment.
"The government should open up more information to the public to build their confidence in its system, especially with investment projects in which residents have the right to knowledge," said Yu Hai, a sociologist at Fudan University. "They should also refrain from pursuing economic development at the cost of public interests. Speedy decisions are the last thing we want in the case of the maglev project."