Volunteers try to save historic buildings from the wrecking ball
Dalian - On a snowy Sunday afternoon, Ji Ruguang stood between a dozen people and a three-story building.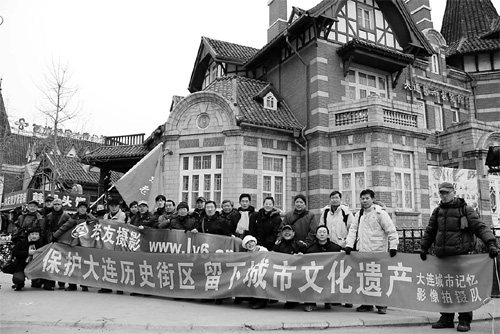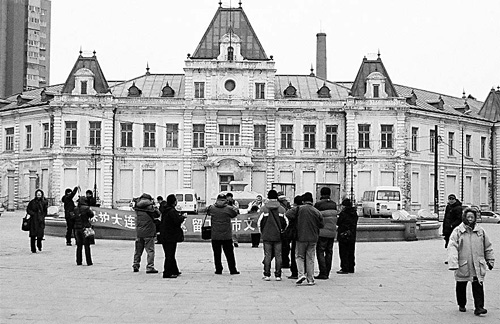 Pictures show volunteer members of Dalian's "memory camera" team hold banners outside historic buildings in the city's downtown Russian Street. [China Daily] 
As the group snapped pictures, Ji made a plea to protect the building and save history - not just of this one structure but of the city of Dalian in Liaoning province.
Now volunteer members of the city's "memory camera" team are photographing old and historic structures in the city before they are all torn down.

Ji Ruigang, initiator of a volunteer group to save Dalian's historic buildings 
"We take photos of old buildings to keep their memories alive for our city and hope to gather a group of citizens to protect the structures from being demolished," Ji, 38, the initiator of the volunteer team, told China Daily.
Ji said their mission was even more important now that a large number of old buildings in Dalian were being pulled down to make way for the city's development.
"Our cultural diversity and identity is at stake. Without these buildings, Dalian is nothing but a common, modern city that can easily be duplicated," he said.
The particular building the group hoped to preserve on Wenhua Road that day is now the machine room of a sanatorium.
But its past is much more exalted.
Built in 1925, it contains a distinctive green vault and became the first British consulate in Northeast China the next year.
Over the years, celebrities that visited the building and helped make it famous included Wan Rong, empress of the last emperor of the Qing Dynasty (1644-1911), Wang Jilie, a Qing Dynasty official, and Xu Haidong, one of the 10 senior generals of the People's Liberation Army.
Located on the southernmost tip of the Liaodong Peninsula, Dalian was occupied in 1898 by Russia and seven years later by Japan. By 1945, of Dalian's 700,000 residents, 200,000 were Japanese.
"Japanese-style houses could be seen everywhere. The city was well arranged, in harmony with the sea and mountains. Buildings were in a picturesque disorder," an author named Susu wrote in a collection of essays.
After World War II, the colonists abandoned the city, leaving thousands of European and Japanese-style buildings.
"These buildings bear witness to a period of history. They should not be pulled down even though they were constructed by the colonists," Ji said.
According to Ji, there are only 38 Russian buildings left in Dalian, all around the Russian Street downtown. Initially built as office buildings and official residences, they are now housing for the poor.
More Japanese-style houses were left, but the number of old, detached houses in Dalian fell from 7,000 to no more than 600, according to Liao Yuan, a veteran architect of Dalian's urban planning department who participated in the development plan of his previous neighborhoods.
Seeing the buildings that formed an integral part of his childhood memories disappear one after another, Liao started to seriously rethink the value of the old structures.
He said Japanese architects who had studied in Europe and combined European and Japanese styles went on to construct the Japanese-style buildings.
According to Liao, these half-timber houses are rare even in Japan. In the 1990s, Kitakyushu, a sister city of Dalian, selected 10 houses and moved them to Japan.
"It reflects to a certain extent the historical and cultural value of such architecture," Liao said.
Almost 80 people, including the aged and students, attended one of the camera team's activities around the city's Gorky Road and Fengming Street on Jan 6.
The street boasts 200 Japanese-style houses. It was a Japanese community in the first half of the 20th century and each house is unique with no more than two floors. Residents planted flowers and trees including pine and cypress in the yards.
The site was sold to a local property developer, who claimed that projects in the area would be carried out with conservation in mind.
"I'm afraid the street will be knocked down sooner or later," Ji said.
Another active volunteer, Han Haisheng, 55, lived near Fengming Street when he first came to Dalian in 1999.
He enjoyed walking along the street in the evening because it had a strong resemblance to the Hengshan Road of his childhood days in Shanghai.
"If I had one house in Fengming Street, I would not exchange it for two Shikumen houses (the traditional style of folk houses in Shanghai)," he said.
Hu Wenhui, a professor of architecture with Dalian University of Technology, believes the buildings are a hallmark of beautiful architecture.
"Compared with the old buildings of diverse designs, the new ones are colorless, ordinary and boring," he said.
Back in the 1990s, Hu began to advise Dalian authorities on protecting the old buildings. But his advice did not stop the continuing demolitions.
Hu also guided his students in creating restoration plans for Fengming Street, winning a dozen prizes in nationwide design contests.
"The profit-driven developer would never adopt these," he said.
Hundreds of citizens in Dalian are now volunteering to protect old buildings by sharing data over the Internet.
Some are delegates of the people's congress and members of the political consultative conferences, Ji said.
"They have put forward suggestions in recent years and the city's decision-makers seem to be paying more attention to it," Ji said.
Among the 13 issues that will be supervised by the municipal people's congress in 2010, the protection of old buildings and old streets ranks fourth.
"We are waiting to see how that plays out," he said.