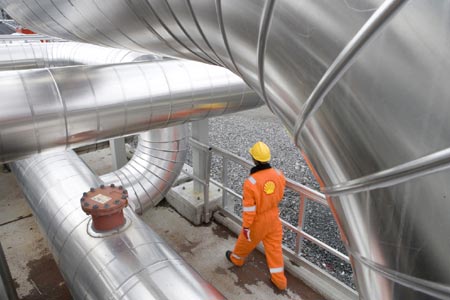 A Royal Dutch Shell Plc employee walks across the Ormen Lange project in Norway. The company said on Tuesday that it plans to jointly develop and produce natural gas in Sichuan province with China National Petroleum Corp under a 30-year contract. [Provided to China Daily]
Thirty-year contract still needs to be approved by Chinese government
BEIJING - China National Petroleum Corp (CNPC) and Royal Dutch Shell Plc plan to jointly develop and produce natural gas in China's Sichuan Basin under a 30-year contract, Shell said in a statement on Tuesday.
The companies have submitted a production-sharing contract to the Chinese government for approval. Under the 30-year contract, CNPC and Shell will appraise and develop tight gas reservoirs in an approximately 4,000 square kilometer area in the Jinqiu block of central Sichuan province, said the statement.
It did not give any further details such as total investment or output for the Jinqiu project.
Related readings:


 CNPC sees China oil output up 1-2% in 2010


 CNPC, Sinopec push up oil prices to cut stockpiles - report


 CNPC clinches deal to develop Iranian gas field


 CNPC to build new crude oil tanks in Tianjin
Tight gas is natural gas contained in rock that must be fractured or broken open before it can flow easily to production wells.
"This is another step forward for Shell's worldwide tight gas strategy, building on our technology and production track record in China and elsewhere," said Malcolm Brinded, Shell's executive director of upstream international. "The agreement will strengthen our partnership with CNPC in developing cleaner energy to meet China's growing needs."
Shell already has onshore tight gas production in China, the United States and Canada. Shell and PetroChina, the listed arm of CNPC, already operate Changbei, another tight gas field in the Ordos Basin near Yulin in Shaanxi province.
Commercial production in Changbei began in March 2007, supplying 3 billion cubic meters of natural gas a year to Beijing and other cities in eastern China.
Shell also signed a joint assessment agreement with PetroChina in November 2009 for shale gas cooperation in Sichuan. Assessment work commenced in January 2010 in the Fushun block that covers another area of approximately 4,000 square kilometers.
Shell is one among many multinational energy companies that have accelerated their pace in non-conventional gas in China. British oil major BP is reportedly in talks with China's second largest oil company Sinopec to develop shale gas in China.
David Goldwyn, US State Department Coordinator for International Energy Affairs, told China Daily last week that China and the US plan to extend cooperation on the development of shale gas and coal-bed methane. The issue will be included in this year's China-US Strategic and Economic Dialogue.
Development of non-conventional gas is an effective way for China to reduce its reliance on natural gas, said analysts.
"As foreign companies have more advanced technology in the area, it is beneficial for domestic companies to engage in cooperation with them," said Han Xiaoping, chief information officer of domestic energy portal China5e.com.
Under a five-year blueprint, China plans to increase its annual coal-bed methane output to 10 billion cubic meters in 2010.