As an historic healthcare bill is finally approved in the US, Wang Shanshan in Beijing looks at the pressure on doctors working in China's reforming medical system.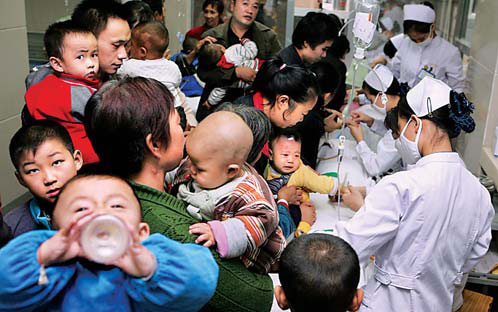 This photo taken in October last year shows a crowded scene at the pediatrics department of Xiangfan No 1 People's Hospital in Hubei province. [GONG BO / FOR CHINA DAILY]
As Barack Obama signed into law historic reforms of the United States healthcare system on Tuesday, the US president not only ended decades of political wrangling but, according to supporters, also years of anxious waiting by doctors. Although the reforms will make medics busier, campaigners said they ultimately boost the wages of those who treat the poorest people.
Doctors in China can only look on in envy.
Healthcare reforms in China have been ongoing for more than two decades, but they have done little to stem the flow of complaints from patients upset about spiraling costs and poor service, and from doctors who feel victimized by the system.
Chinese physicians - referred to as "white wolves" by some due to their trademark white coats and reputation for profiting from prescriptions - are not a happy bunch. One in four suffers moderate to severe depression due to the stress of the job, according to a nationwide study by Peking University commissioned by the Ministry of Health.
Stark headlines and media reports on alleged cases of malpractice in recent months, including the death of a baby while a doctor played computer games, have further dented their image.
Although the last batch of healthcare reforms announced on Feb 23 are aimed at lifting the gloom by getting public hospitals to rely less on drugs costs and more on service charges and government subsidies, analysts say they still will not cure many of the problems facing doctors.
So what is wrong with the medical profession?
According to health professionals, lawyers and academics, the key problems are an evaluation system that is based on a doctor's ability to generate revenue for a hospital, a certification requirement that effectively prevents doctors from changing jobs and conflicting procedures for medical disputes that "encourage cover-ups".
Of the more than 8,000 Chinese physicians polled - about 3,000 in cities and 5,000 in the countryside - as part of the Peking University study, most were 44 or younger, married and well educated.
"However, our research showed that the majority of doctors have a much higher degree of anxiety and depression than most citizens," said Qiu Zeqi, a sociology professor who led the research published in October 2009. "They also have a very poor work attitude."
The pressure on doctors comes partly from the way their performance is evaluated, said Zheng Shanhai, a doctor at China Meitan General Hospital in Beijing. "Money has become the major measurement," he said. "Each section of a hospital has a different revenue target, and a doctor's performance is evaluated monthly according to how much he helps to meet that target."
Medics generate revenue through checkups and prescriptions they make out, which patients use to purchase drugs at the hospital's pharmacy.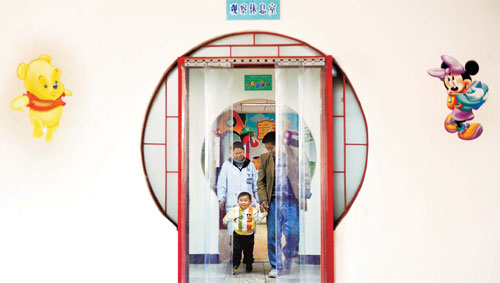 A boy leaves a community clinic with his father after receiving a routine checkup in Yueyang, Hunan province. As a part of the healthcare reform, people are encouraged to use small clinics more. [ZHAO ZHONGZHI/XINHUA]