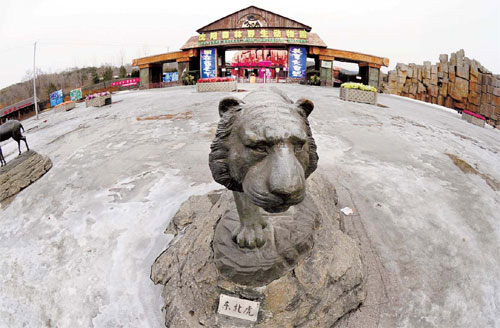 A tiger statue outside the scandal-hit Shenyang Forest Wild Animals Zoo, Liaoning province, where 11 Siberian tigers died of malnutrition. The park was closed to the public this week. [FENG YONGBIN / FOR CHINA DAILY]
As the investigation into conditions at the zoo continues, experts have discovered deaths among other rare species including bears, red-crowned cranes and monkeys. In just a decade, the number of animals has almost halved to 518, with the number of species falling from 61 to 49.
A draft for the Anti-cruelty to Animals Law was published on the Internet on March 17, and it will be submitted to the National People's Congress - China's top legislature - in April. The law bans animal fighting and makes it illegal to mistreat an animal raised for commercial purposes by not giving them adequate food and water.
However, the death count uncovered by investigation should be a wake-up call to the central government, say animal rights groups, who are calling for an end to the country's large-scale farming of tigers.
Although there are only 50 tigers living in the wild in China, the number at private zoos and farms has risen sharply to 6,000 - the largest in the world - over the past two decades, according to the State Forestry Administration. However, this increase is more due to the growing commercialization of tiger breeding, rather than efforts to conserve an endangered species, warned Hua Ning, China program manager for the International Fund for Animal Welfare. "Tiger farms have made lots of money from breeding lots of tigers for one purpose: to sell them and their parts," she said. "Conservation is only a cover. The presence of these farms and private zoos stimulates the illegal trade of wildlife and threatens wild species."
Animals Asia Foundation launched an undercover investigation into Xiongsen Bear and Tiger Mountain Village, a breeding farm on the outskirts of Guilin in the Guangxi Zhuang autonomous region, last September. They found that it not only had a tiger bone museum, but also sold tiger bone wine, bear bile wine and lizard wine, as well as vials of bear bile, which is used in traditional Chinese medicine.
The park was in bad physical and financial shape, according to a foundation report. Most tigers were kept in barren 8-square-meter cages, while only some of the large encloses had pools and shade.
Not all private zoos and animal farms are bad, argued Cao Liang, director of the China Wildlife Conservation Association. He said the country's best zoos are all private operations. "We've seen more private zoos in recent years and many are making big money thanks to the prosperity of the domestic tourism market," he said.
Zoos began to open up across China about a century ago and, although it reached a peak in popularity in the 1950s, there were still 212 nationwide in 2006, according to the Chinese Association of Zoological Gardens, a network based in Beijing. Local authorities still control most zoos but there is increasing investment from the public sector.
Cao blamed the tragedy in Shenyang on extremely poor management, not the nation's zoo system.
Just 30 km from Shenyang Forest Wild Animals Zoo in the city's Shenbei district is the Guaipo Tiger Zoo, which keeps 18 Siberian tigers, two lions and a dozen bears on 2 hectares of land in a larger public park owned by the district government.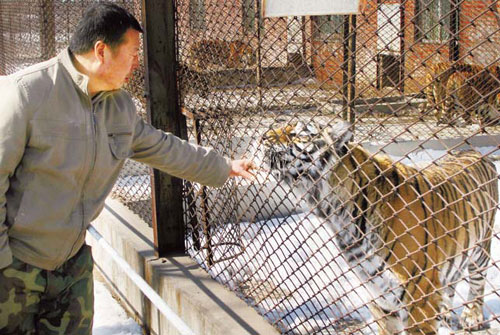 Sun Changzhi has handled tigers at Guaipo Tiger Zoo for more than two years. He said he feeds each animal 10 kg of raw meat every day. [FENG YONGBIN / CHINA DAILY]
Sun Changzhi has handled tigers at the park for more than two years. He said he feeds each animal 10 kg of raw meat every day, costing the park an average of about 100,000 yuan a year.
"Private zoos are not running well because fewer visitors are coming, but that does not mean we will starve the tigers. Our boss is not bothered about the deficits," he said.
Han Qi, a 61-year-old retired civil servant, opened Guaipo Tiger Zoo in 1998 and so far she has spent more than 3 million yuan on keeping big cats. She originally wanted to have 100 tigers but money has become too tight. "Our financial situation is becoming urgent. We have not received a penny from the local government," she said.
Tickets for the park cost 30 yuan, which goes straight to district government coffers. However, visitors must pay an extra 30 yuan to visit the tiger enclosure, which goes to Han.
"Tigers belong to our country, so the government should pay for them, or at least subsidies a zoo's income to make sure tigers are sufficiently cared for," said Han. She said her tigers, which are the main attraction, helped increase the park's ticket revenue from 2 million yuan to about 7 million yuan last year, and argued that they should get a share of the local authority's profits.
Han, who refers to her animals as "her babies", insisted that her management style is very different to Yang. Chicken bones are typical food for tigers and Han has bargained her suppliers down to 1.8 yuan per kilogram. "I make sure the tigers get the food they need," she said.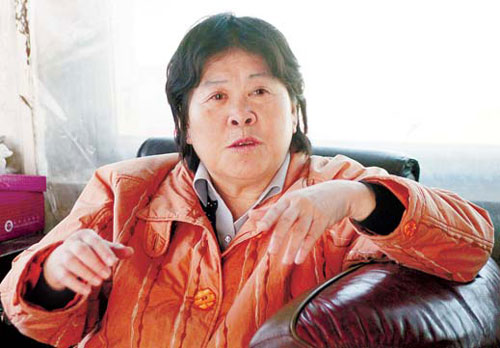 Han Qi, 61, a retired civil servant opened the zoo in 1998. She calls her tigers "her babies". [FENG YONGBIN / CHINA DAILY]
Another burden was the need to freeze dead parts, she said. As it is illegal to trade tiger parts, the zoo must store them until they can be disposed of. "But I cannot find a government department that will advise me on how to deal with the parts," said Han. "It costs me 30,000 yuan a year to freeze tiger parts."