Was the starvation of 11 Siberian tigers an isolated incident or the tragic consequence of a larger issue? Hu Yongqi and Wu Yong in Shenyang, and Cao Li and Wang Zhuoqiong in Beijing report.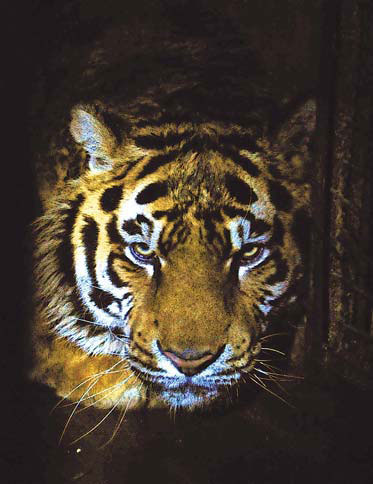 Picture taken last week shows a tiger at Shenyang Forest Wild Animals Zoo. [China Daily]
After the starvation deaths of 11 tigers in Northeast China, animal rights campaigners this week attacked owners of private zoos for "caring more about profit than animal welfare".
The scandal at Shenyang Forest Wild Animals Zoo, which was exposed by disgruntled staff last week, not only raises fears about the poor management of these facilities, but also highlights the government's lax supervision, experts claimed.
The Siberian tigers, which died of malnutrition between December and February, were among 40 at the zoo. "Another three are in critical condition and one of them is on the verge of death," said Zhang Chenglin, director of the veterinary hospital at Beijing Zoo and one of three experts who investigated the tragedy. "We are not sure if the tigers can be saved."
It is not the first time the zoo has been mired in scandal. In 2009, two tigers, allegedly also dying of starvation, were shot dead after they mauled their handlers in separate incidents.
The park in Liaoning province is currently closed to the public, according to a security guard on duty on Tuesday. Almost two thirds of its 145 staff went on strike over unpaid wages on March 10 but city officials said the dispute has been settled.
Most workers at the zoo refused to comment. However, a 51-year-old technician, who gave his surname as Qi, insisted that the animal handlers treated the tigers very well. "They just did not have enough meat to feed them," he said.
Related readings:


 Tiger-bone liquor 'open secret' in zoo


 3 tigers seriously ill in Shenyang zoo


 More animals reported dead in Shenyang zoo


 11 tigers starved to death at Shenyang zoo
The animals were fed just the bones of one or two chickens a day for at least two years, said staff. However, according to the World Association of Zoos and Aquariums, big cats need 5 to 6 kg of meat with bones a day, which costs an average of 150 yuan in China.
All 11 tigers died of heart, kidney and lung failure, showed a report to the city's forestry bureau. Liu Mingyu, a professor in life sciences at Liaoning University, explained that the heart and kidney are the first organs to fail during malnutrition.
However, starvation may not the only cause of this tragedy, added Bi Yantai, director of animal management at Dalian Forest Zoo, who was with Zhang on the investigation panel. "The extreme cold weather, the poor environment of the cages they are kept in and their overall weak physical condition could also have contributed to this tragedy," he said. "Several of the surviving tigers are weak and one is in danger. We must wait to see if the treatment is effective."
Shenyang Forest Wild Animals Zoo has been struggling financially for some time. In 2006, owner Yang Zhenhua closed it, claiming the ticket price failed to cover costs. He called on residents to donate money and, within months, received 1 million yuan ($140,000) from the municipal government, which has a 15-percent share in the business.
The zoo has been supported with an annual 2 million yuan ever since and, last weekend, was given 7 million yuan to help end the pay dispute, said an official in the municipal government's publicity department.
A breeder surnamed Zhao, 33, said that before the strike he had not been paid for three months, nor had he been insured. Yang, who rarely visits the zoo, arrived to make a full apology to his staff last Sunday, said Qi.