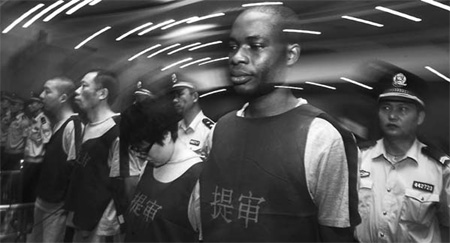 Osonwa Okey Noberts, a Nigerian who was charged with drug trafficking, stands trial with his girlfriend, Zhang Dongxiang, and two others accused of the same crime at Dongguan Intermediate People's Court last June in Dongguan, Guangdong province.[Fang Guangming/China Daily]
SHENZHEN: A Nigerian man received the death penalty Tuesday in Dongguan, Guangdong province, after being convicted of drug trafficking. Experts say it is the first case in the southern manufacturing city in which a foreigner has received a death sentence for drug trafficking.
Related readings:


 Mexican police arrest 4 gunmen working for drug traffickers


 Six drug traffickers executed in China


 6 Afghan drug traffickers killed in border clash


 China cracks more drug trafficking cases


 Cross-border drug trafficking gang busted on train
His sentence was handed down from the Guangdong Higher People's Court. The execution still needs the review and final approval of the Supreme People's Court.
Osonwa Okey Noberts, 37, was found trading nearly 6 kg drugs to Chinese drug dealers at his rented apartment in Baiyun district of Guangzhou from February to April 2008, according to the investigation.
"Osonwa Okey Noberts took the drugs from the suppliers and sold them to the lower-tier buyers in China. The amount of heroin reached 5,978.1 grams. He deserves the most severe punishment," said a press release by the Intermediate People's Court of Dongguan, where the final verdict was announced.
Zhang Dongxiang, the 27-year-old Chinese girlfriend of Noberts, received a death sentence with a two-year reprieve for assisting the illegal trade.
They lived together starting in July 2007 but when she discovered almost six months later that the Nigerian was trafficking drugs, she rented another room next to their apartment to facilitate the trading and provided necessary help.
Two other Chinese drug dealers, Wu Xianjun and Jiang Xuzhi, also received death sentences with two-year reprieves for drug trafficking and employing people for the illegal activities. Policemen found guns and bullets in their homes when they were arrested in April 2008.
The Guangdong Higher People's Court upheld the convictions of the first trial at the Dongguan Intermediate People's Court in June last year but reduced the sentences on four of the convicts after taking into consideration their appeals, the report said.
According to China's criminal law, trafficking of more than 50 grams of heroin can warrant the death penalty.
Official statistics showed that drug trafficking by foreigners is becoming rampant in Guangdong.
Four foreigners, along with five other suspects, have been in custody since they were caught in Shenzhen for allegedly smuggling 144.5 kg of heroin from Pakistan in September 2009.
The Guangzhou Intermediate People's Court heard eight drug-trafficking cases, involving nine Africans, were involved, in November 2008. Eight received a stay of execution, while the ninth person was sentenced to life imprisonment.