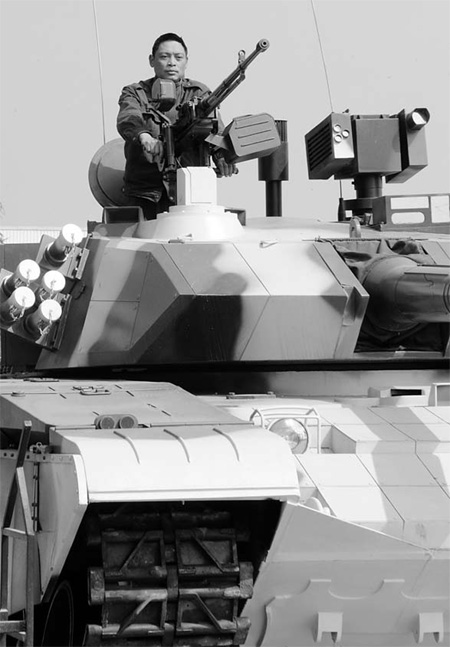 A worker operates a life-size model of a tank at the Yingming Model Development Company Ltd on Wednesday.[Yu Ping/For China Daily] 
Workshop becomes center of prop construction for action movies and TV
SHEHONG, Sichuan province: Fans of war movies and TV series featuring tanks and planes might be surprised to discover that many of the machines are made by a one-time farmer and high-school dropout from Sichuan province.
Since 2007, Wu Zhiyong of Sichuan's Shehong county has been making replica tanks, helicopters, planes and other military props for the country's growing film and TV industry.
"I was a poor student and hated memorization but I was good at innovation," Wu, who is in his early 40s, told China Daily.
After dropping out of junior high school in 1985 and working on a farm for half a year in his home village, Wu became a carpenter's apprentice.
His skills soon proved superior to those of his fellow apprentices, so his master advised him to join the army, believing it would broaden the young man's horizons.
Serving in the military for three and a half years, Wu retired in 1989 and found work at a model workshop in Chengdu, the capital of Sichuan, which was also a major base for China's research, design and production of fighter planes.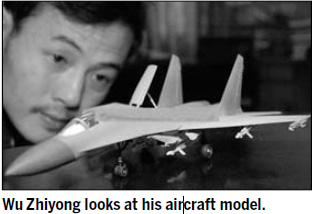 Although Wu's father was a senior worker in the plant, it was his father's master, Chen Yingming, who took the young man under his wing.
"I liked him very much because he was hardworking and innovative, and I put him in charge of several people making model planes," said Chen, 87, a leading expert on aviation history and the manufacture of model planes.
In 1996 he started a small model plant, but sales of his hand-made planes were stagnant and he often had difficulty paying his cell phone bill.
Good luck took off unexpectedly in early 2003 when the Beijing-based China Aviation Museum asked him to make a life-size replica of the world's first plane made by the Wright brothers. It was to be put on display at an international aviation exhibition in Beijing to commemorate the centenary of flight. The museum promised to pay him 600,000 yuan ($88,000).
Wu finished the blueprint for the replica in one month and enrolled about 50 fellow villagers to work on it. Four weeks later, the replica was complete.
At the exhibition, which drew nearly 160 plane manufacturers from 21 countries and regions, Wu found his replica in the most conspicuous part of the exhibition hall - and he has never lacked orders for model planes since.
But life for Wu took another turn when Kang Honglei, director of the TV series My Chief and My Regiment, contacted him in early 2007.
To prepare for his TV series about battles between the Chinese and Japanese armies near the Sino-Burmese border during World War II, Kang asked Wu to make a life-size Type 95 Light Tank used by the Japanese army and one life-size Sherman Tank used by the United States - and he wanted the tanks to actually move.
As Wu had only made motionless plane replicas for museums and exhibition halls, everyone in his family was against the idea of making moveable tanks.
Making tanks simply look the same as genuine ones was easy for Wu, but making the machines move worried him. After several experiments, he managed to use engines from tractors to power the replicas.
"Seeing the tanks move with simple tractor engines, a military expert from Beijing thought it was both unbelievable and a lot of fun," Wu said.
A mild and good-tempered man, Wu said he felt it was a great pleasure to meet challenges of solving technical problems, even if it meant sleepless nights.
"I'd jump to my feet whenever I found a solution," he said.
After the TV series, Wu made tank replicas for City of Life and Death, which depicts wartime atrocities by Japanese forces occupying the former Chinese capital of Nanjing, as well as for other blockbusters in the film and TV industry.
Last July, Wu expanded his plant, the Yingming Model Development Company Ltd, named after his father's master Chen Yingming, to 8.7 hectares, more than 20 times its original size.
Other than making replicas, the plant will display plane and tank models as well as military equipment from different eras of Chinese history, to both entertain the general public and teach them about national defense, he said.
The ongoing production of war films might guarantee Wu a market for his models, but he has his sights set beyond the country's borders.
"My goal is to introduce special stage props to the international market and I hope the products can be brought to Hollywood," he said.
Watch out, James Cameron.