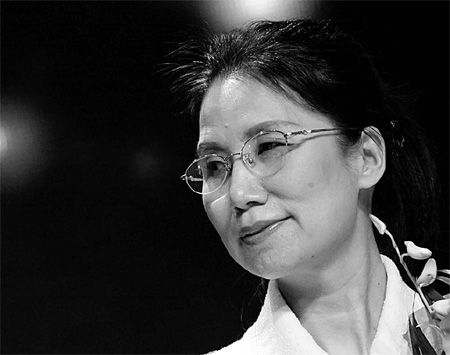 Yang Jia is elected as a model for Chinese working women for 2009 by the All-China Women's Federation on March 3.[Jiang Dong/China Daily] 
Professor struggles against disability to achieve success and help others
BEIJING: When she was younger, English professor Yang Jia dreamed of being like characters in the books she read.
She imagined herself as the strong-willed and independent Jane Eyre, who struggles to be her own individual, or as the rich and beautiful Tonia Tumanova from the Russian novel How the Steel was Tempered.
Instead, Yang said, she ended up more like the blind characters in those same books - Jane Eyre's love Mr. Rochester, or Pavel Korchagin, the hero who fought against his disability to achieve success.
Yet the comparison with these characters is more than merely literary.
At 29, Yang was diagnosed with macular degeneration, which first blurred her vision and then led to her ultimate blindness.
"Going blind was the watershed of my life. My focus shifted from outrunning others before turning 29 to transcending my own limits after it."
And like those two strong-willed characters, Yang fought the odds to rise from her sudden blindness to became a well-respected social activist.
Yang, now 47, won admission to Zhengzhou University when she was 15. She was called a genius by her peers and topped her class every year in university.
After three years of teaching at her alma mater following graduation, Yang proceeded to her master's degree at the Graduate School of Chinese Academy of Sciences.
On the train for Beijing, Yang felt like the character Jack from the blockbuster movie Titanic, boarding a luxury liner, ready to embrace a brave new life, yet never expecting it to founder.
Everything was smooth sailing, but just like the Titanic, trouble comes swiftly - not only was she going blind, but her once-loving husband asked for a divorce and took away their only child.
"I gradually restored my composure in the long and painful wait for blindness. I decided to face the music and meet the challenge," Yang said.
She teaches as well as she did before, if not better. She is not able to read books any more, but she can still listen to them using specialized software. She has even compiled a textbook for the graduate English reading course.
She usually arrives at the classroom in advance to get settled into the environment, measuring the blackboard with her shoulder and marking the electronic teaching equipment with stickers.
In 2000, Yang won the opportunity to study at the Kennedy School of Government at Harvard University and a year later became the first blind Master in Public Administration graduate in Harvard's history.
David Gergen, professor of public service at Harvard, signed his book as a present to her with the words: "Jia, you taught us more."
Yang likes traveling. "I cannot see, but I can listen, smell and feel," she said.
She recalled the flaming azaleas in full bloom when climbing Yuelu Mountain with her father as a child. She talked about the pine trees she smelled on the Great Wall, the grandeur of the cathedral she felt and the prayers of followers she heard in Mexico City.
"The way you learn about things is not important, whether with your eyes, ears or fingers. What matters is whether you put your heart into it."
As vice-chair of the United Nations Committee on the Rights of Persons with Disabilities, Yang is happy to have the chance to contribute to promoting international exchanges for the cause of disabled people and making the cause of disabled people in China known to the world.
At her insistence, Chinese was adopted as one of the committee's working languages in 2008.
Yang is also a member of the National Committee of the Chinese People's Political Consultative Conference. One of her proposals, for this year's ongoing session, is to build an online forum for the disadvantaged, including the disabled and the elderly.
"With the forum, the disadvantaged can express what they need and want. It can also be a platform for them to exchange ideas, enlarge their social circle and solve daily problems," Yang said.
"There is always hope, as long as you don't give up," she said in her characteristic resolute voice.