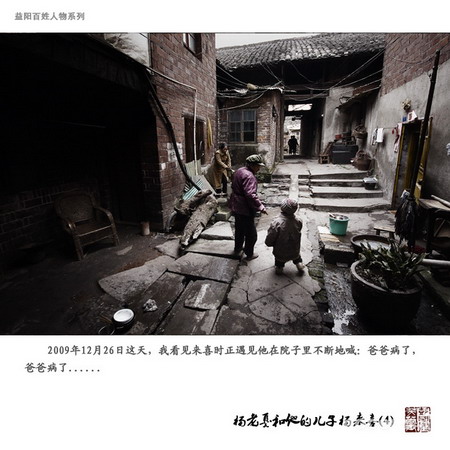 On Dec 26, 2009, when I came to Yang Laojia's shanty house, I met his son Laixi, who cried all around the yard: "Father is sick, father is sick!" 
"Photography is not my career but a profession I am clinging to", said the photographer Peng Guoxing, also named Furongwang (Lotus King) .
"I want to record, present and spread the veiled and ignored reality surrounding us with my camera, and I wish our society can become truer in the shadow of my photography."
He is vice president of the Art Photography Association of Central China's Hunan province, and has won the award for Best Documentary Photographer of Hunan in 2008-2009.
He concentrates on the fields of humanity and culture photography, editing photos, innovative commercial photography, graphic design, and portraits.
Following are photos selected from his works titled "Yang Laojia and His son Yang Laixi," which portrays a sick father and his son.