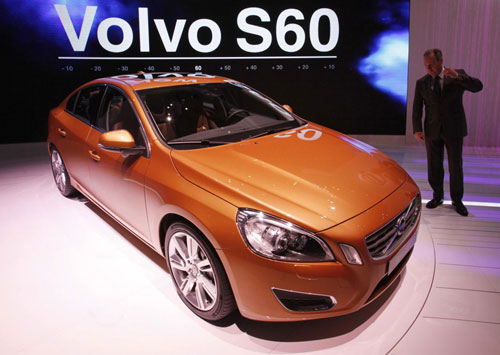 The new Volvo S60 car is unveiled by Volvo Car Corp President & CEO Stephen Odell on the exhibition stand of Volvo during the first media day of the 80th Geneva Car Show at the Palexpo in Geneva March 2, 2010.[Agencies]
STOCKHOLM - Zhejiang Geely Holding Group Co may have to spend at least 10 billion kronor ($1.4 billion) to revive Volvo Cars after buying the Swedish brand from Ford Motor Co, Volvo union officials and board members said.
The figure would be "an absolute minimum" for financing car development, marketing, production and distribution in the next year, and the money needed could be double that amount, Glenn Magnusson, head of the managers' union at Gothenburg, Sweden-based Volvo, said.
Ford and Geely will probably sign a purchase agreement on the estimated $2 billion transaction towards the end of the month, according to three people familiar with the talks.
Four unions said Feb 5 that they would accept Geely as the new owner of Volvo as long as the Chinese manufacturer proves it can fund operations.
"We still want them to show us that they have the financial strength," Magnusson said on Thursday. "We haven't seen anything yet and we are not satisfied."
Anders Fogel, a partner at Brunswick Group in Stockholm who acts as Geely's spokesman, said talks are proceeding according to plan, and that the carmakers are sticking to a target of reaching an accord by the end of March.
Ford is "still working toward a definitive agreement by the end of the first quarter and to close the sale by the end of the second quarter", said Mark Truby, a spokesman at the Dearborn, Michigan-based company.
Regulatory approvals would come after any signing, followed by a transfer of ownership by June 30, two of the people said, speaking on condition they not be identified because the talks aren't public.
Related readings:


 Geely secures financing to buy Volvo: report


 Geely grabs Zhongyu for further expansion


 Geely sets its sights on Zhongyu


 Ford, Geely miss New Year deal date
Geely has received funding in the past few days to cover the purchase price from a combination of Chinese financial institutions, underwritten by provincial governments, one of the people said, declining to specify any amount the manufacturer is providing.
The Chinese automaker told Ford in December that it had enough funds to operate Volvo as a sustainable business, the person said.
Ford, which lost $30 billion in the three years beginning in 2006, put Volvo up for sale in late 2008, part of a strategy of dropping European luxury lines to concentrate on its namesake brand.
The US company acquired the division for $6.5 billion in 1999. Geely, China's largest private automaker based on 2008 sales, wants to gain insights into Western vehicle development and manufacturing through buying a mainstream European brand.
BLOOMBERG NEWS