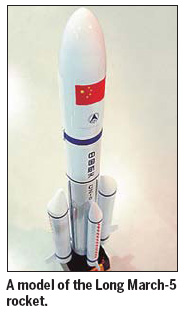 BEIJING: A new heavy-thrust carrier rocket is under scientific research, with the goal of sending astronauts to the moon, scientists said.
Although there is no official timetable yet for China's moon landing, scientists are researching a new powerful carrier rocket with a lift-off thrust of 3,000 tons, Liang Xiaohong, vice-president of the China Academy of Launch Vehicle Technology, told China Daily on Thursday.
"The heavy-thrust launcher's lift-off thrust will be three times that of the Long March-5, China's current largest launcher," said Liang, who is also a member of the 11th CPPCC national committee.
The large-thrust Long March-5 launch vehicle has a lift-off thrust of 1,000 tons, which enables it to send a maximum payload of 25 tons to the near-Earth orbit and a payload of 10 tons to the higher geo-stationary orbit. Designed for transporting heavyweight satellites and space stations, it is slated to take off in 2014, according to Liang.
Compared to the Long March-5, the heavy-thrust launcher will be more powerful, but its payload capacity is still under discussion, he said.
The Long March-5 is also likely to be used in the preparatory stage of a future moon landing, he added.
China is currently studying the feasibility of a moon landing, despite US President Barack Obama's decision to kill NASA's $100-billion plans to return astronauts to the moon.
Bao Weimin, an academician with the Chinese Academy of Sciences and a CPPCC national committee member, said: "A moon landing program is very necessary, because it could drive the country's scientific and technological development."
Besides the heavy-thrust carrier rocket under study, the academy is also developing a new family of carrier rockets for future space programs.
"The Long March-6 will be a small-thrust carrier rocket, and the Long March-7 will be a medium-thrust launch vehicle. Together with the Long March-5, they will form a family that can cover all necessities for launch vehicles and replace the current carrier rockets," Liang said.
So far, the Long March-5 project has entered the testability analysis stage, he added.
About 100,000 square meters of workshops have been completed so far at a new base being built in the Binhai New Area of the northern coastal city of Tianjin. The facility will be used for testing and manufacturing the Long March-5. Construction began last year with an investment of 1.5 billion yuan ($220 million), Liang said.
Eventually, a total investment of 10 billion yuan will be poured into the base, which will be able to produce a maximum of 12 Long March-5 launch vehicles each year, he said.
Qi Faren, former chief designer of Shenzhou spaceships and a CPPCC national committee member, said on Thursday that the Long March-5 will be used to launch China's space station mission.
"We aim to send the core module of the space station into orbit before 2020. Without the large-thrust launcher, the 20-ton core module cannot be in place," he said.
Before that, however, the first task of the Long March 5 may be to send the Fengyun-4 weather satellite into space from the launch center under construction at Wenchang in Hainan, China's southern island province, according to Liang.
The new Fengyun-4 satellite, which is under design, weighs about eight to nine tons, which cannot be lifted by the current launchers that can carry a maximum payload of 5.2 tons to geo-stationary orbit, he added.
Hou Lei contributed to the story