Village teacher overcomes disability for her students
HARBIN: Hu Xiuhua has been teaching students in her village for 20 years, but the most important lesson may be her personal example of guts and grit.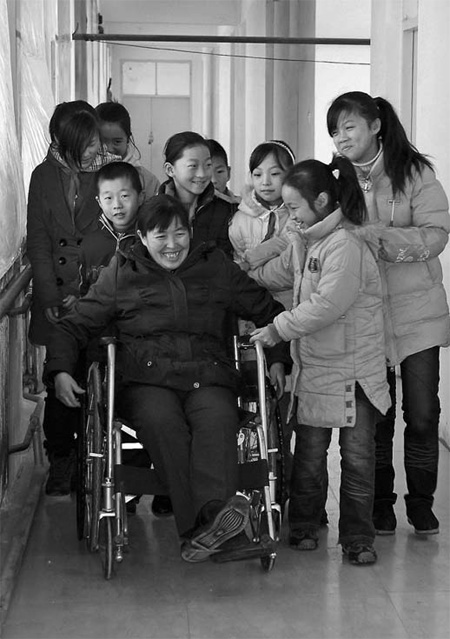 Hu Xiuhua, a disabled teacher, is escorted by her students at Jianshe Elementary School, Jianshe village of Heilongjiang province.[Li Anna/For China Daily] 
Diagnosed with a progressive hip disease that has forced her to teach first on crutches and eventually from a wheelchair, Hu has never allowed the illness to interfere with her students' education.
Each day, Hu struggles to the front of a classroom in Jianshe Elementary School, in Jianshe village of Heilongjiang province, and through it all has never thought of giving up her beloved career.
During the early stages of her illness, doctors said it would cost up to 80,000 yuan ($11,800) to repair her hip bone.
"It was impossible for my family to come up with that kind of money. I kept taking medication to deal with the disease," Hu said. "But those medicines don't work anymore so I just take painkillers instead."
Hu, 46, teaches about 20 classes a week, including math and Chinese. To avoid causing others any trouble, she never drinks liquids during the day so that she does not have to drag her body to the restroom.
She also takes stacks of assignments home to work on after a full day in school. Whenever she has a fever, she conducts make-up classes while receiving intravenous injections.
One of Hu's former students, Wang Liyan, who now works in Shanghai, remembers how Hu used to walk with extreme difficulty.
"She once spent an entire day during the weekend making up lessons by conducting a class at home. She even cooked for us," Wang said.
Leng Yanlin, the principal of Jianshe Elementary School, said Hu would not let the disease stop her from teaching her students.
"When I first saw her going to work on crutches, I told her to take a break and the school would still pay her wages," Leng said. "She cried when she heard that and said: 'Don't worry about me. My legs hurt but I can still think clearly. I can still hold classes.' "
Pointing to an old leather chair, Leng said: "She had been giving classes by leaning on that chair for the past few years. It's been worn out."
Last year, the county government donated a wheelchair, and her old chair has been kept as a memorial of sorts.
"She shows great affection for her students and becomes a dynamic person every time she leads a class," Leng said.
Hu has two daughters - one in college and the other, who at one point dropped out of school to help support her family, is now back in middle school.
Liang Yue, the younger one, saw her mother working on crutches when she was about 3 years old. She later worked in a barber shop without letting her parents know in order to earn money for her mother's medical treatment.
Liang Zhengquan, Hu's husband, said of his daughter: "We persuaded countless other kids who had dropped out of school to return to classes over the last several years, but we didn't know our own daughter had dropped out for nearly half a year."
"I was really sad about that," he said.
Asked why she dropped out of school, Liang Yue replied: "My father doesn't have a permanent job and my mother's health is bad. My sister is in college in another city. It was clear to me that I had to earn money to help my family."
She has returned to school but is lagging behind others and cannot keep up with classes, Hu said.
"We've spoken with our daughter about continuing her studies."
Hu's family now stays in a rented apartment because their original home, an old grass cottage, has fallen apart. The couple also want to live near their daughter's middle school.
The family survives mostly on Hu's wages, with a little additional income - 3,000 yuan a year - from crops planted by her husband.
In recent years they have found the cost of their daughters' education and Hu's medical expenses increasingly challenging.
"I find odd jobs for more income and borrow money from relatives, but it's really hard," her husband said.
Yet Hu's efforts to surmount these difficulties have proven to be a source of inspiration.
Last year, she was singled out for an annual accolade that honors people in Harbin for their character.
"As long as I can support my body, I will not leave my students," Hu said.