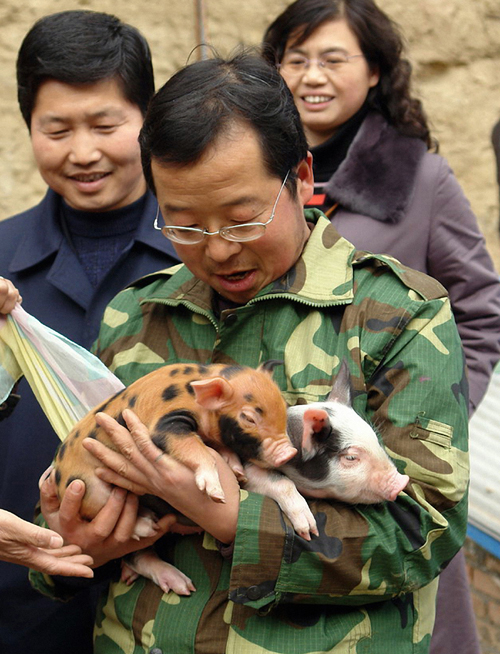 Huang Hongguang, a farmer in Fengxian county, Shaanxi province, has become a millionaire by raising pigs.[Wang Jian/For China Daily] 
Villager overcomes shy nature to make millions rearing pigs
XI'AN: Huang Hongguang used to be famous in his village for being timid.
Huang was so uncomfortable in the company of other people that he bought two sows to raise at home after finishing high school, instead of seeking his fortune outside the village like many other young men in the area.
He often chatted with his pigs and even slept in the pig pen to ease his loneliness. Seeing pigs butchered, a normal practice in the village, was disturbing to him.
So no one in Wangjiachagou village of Fengxian county, Shaanxi province, could have imagined that the shy farmer would become a millionaire by raising pigs.
Huang, 38, took out 5,000 yuan ($730) as capital and grew that into 6 million yuan within five years.
Wang Jing, one of Huang's fellow villagers, still can not understand how the farmer became so wealthy so quickly.
"His success is a mystery to me, but his perseverance in his work and business over the past few years probably had something to do with it," said Wang Qiang, another villager in Wangjiachagou, one of the most impoverished mountain settlements in the county.
"My family used to be the poorest in the village and my parents, who were disabled, could not earn enough money from farming," Huang said.
As a result of his poverty and home situation, Huang did not make any friends and cut a lonesome figure when he went to school.
"I often went up to the mountains to get away from the villagers and thought hard about making money on my own," Huang said.
He got his first two pigs in 1993 after graduating from high school.
"I liked the animals. I found they were clever and kind to me. They never looked down upon me," Huang said.
During his stay with the pigs, Huang also closely studied the animals' behavior and learned how to treat their illnesses.
After staying at home to look after the pigs for two years, Huang was unable to continue working on his fields and ran out of money. So he decided to work on a large-scale farm in Yangling, Shaanxi.
He worked there for five years. During that period, he saved some money, learned about pig farming and gained an understanding of the pig market.
Chinese farmers used to rear 70 percent of the pigs destined for the market at home. The practice created a phenomenon in which the farmers would keep more pigs when the price of pork went up. Later, when the market became saturated, the price would go down. As a result, the farmers would cut back on pig farming. Such a practice resulted in periodic fluctuations in the market.
"I discovered the pattern in pork prices would regularly go up and down every three years," Huang said.
In 2001, Huang went back home with the money he earned from the large pig farm in Yangling and started his business selling piglets in Gansu, a neighboring province.
"I continued my business until 2003, when the price of sows and piglets dropped sharply. Recalling the fluctuating pattern in the pig market that I learned during my work at the Yangling pig farm, I saw it as an opportunity," Huang said.
He invested all the 5,000 yuan he saved over the past seven years to buy 20 pregnant sows and 200 piglets at very low prices in Gansu.
"We thought he must have been mad, buying so many pigs as prices went down. No one wanted to keep any pigs at that time," Wang Qiang said.
Huang Jin'e, Huang's elder sister, even advised her brother's wife to take him to a doctor. "I thought he was mentally ill," she said.
Huang paid no attention to the criticism and his family's complaints about his seemingly crazy behavior. He kept taking care of the swine he bought with all his money.
Two months later, the depression that had struck the pork market over the preceding two years began to lift and the price of pigs quickly recovered.
"The piglets I bought at 5 yuan each were sold for 100 yuan each. The piglets born from the pregnant sows also reaped about 20,000 yuan. I invested 5,000 yuan and got back more than 50,000 yuan," Huang said.
Huang started his business in 2004 with his windfall and earned more than 600,000 yuan by the end of 2005.
"Although the price of pigs went down in 2006, I predicted that the price would recover in 2007 and decided to expand my farm. I got a lot of financial support from the local government when I needed help to develop my farm," Huang said.
Fan Enru, director of the Fengxian animal husbandry bureau, said: "I learned from Huang that prices would go up in 2007. He wanted money to expand his farm, but he could not get loans from the bank because he had no guarantor. I decided to be his guarantor."
With help from Fan and his bureau, Huang got 180,000 yuan in loans from a local bank, which enabled him to earn 6 million yuan by the end of 2008.
Huang's farm now keeps more than 3,500 pigs, of which more than 1,000 are sows. Taking a leaf out of his book, more than 20 of his fellow villagers also took up pig farming.
"We used Huang's experience and made pig farming the pillar of our community to help poor farmers make money. Now there are 79,300 pigs being raised by our farmers, with 34,000 sold. Many farmers make a better income from pig farming," Fan said.