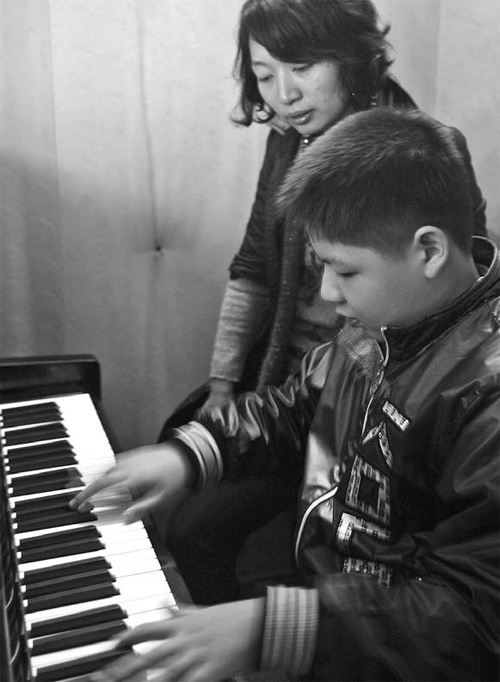 Su Yongcheng, an 11-year-old blind pianist, with his teacher Luo Zheng at the Children's Palace of Haizhu district in Guangzhou.[Zou Zhongpin/China Daily] 
Visually impaired boy makes waves on the piano
GUANGZHOU: On Feb 5, 11-year-old Su Yongcheng played the traditional Cantonese score Beautiful Clouds Chasing the Moon at a concert by Chinese youth to mark the Chinese Lunar New Year.
Su's performance at the prestigious Golden Hall in Vienna, Austria, was so well received that he was approached backstage by admirers asking for his future performance schedule.
"I felt proud," Su shyly told China Daily.
His mother, Luo Ruipin, was part of the audience and she cried after his performance.
She had worried about his form because he had not practiced for nine days before the concert.
It was not just a mother's love. Her son's achievement was even more special to her because he had lost his eyesight when he was a child.
"I wanted to thank my mom and my teacher," Su said.
"He shouted 'super cool' to me after his performance," said Luo Zheng, his piano teacher at the Children's Palace of Haizhu district, Guangzhou, Guangdong province.
It took five years and a lot of hard practice before Su experienced the magical moment.
When he was three, he was diagnosed with a brain tumor that was pressing on his optical nerves. After the tumor was removed, he became blind.
A nurse later suggested that he learn a skill like playing the piano to help alleviate his boredom, so his mother signed him up for lessons.
"I wanted to help him build self-confidence and did not mind whether he would be successful as a pianist. I even considered him entering musical contests. With his efforts, I hoped he could live a normal life," his mother said.
Su took one or two piano classes a week and, with a piano at home, practices up to four hours a day.
Although Su's school for visually-impaired children offers accommodation, he travels by bus with his mother more than two hours from school to practice the piano at home.
"There is only one piano at school and I am afraid he might not be able to concentrate there," she said.
As an asthma sufferer, he also receives regular treatment at a clinic.
It has required exceptional patience for Su to play the piano. At first, he was only able to learn one note or one hand position per session, his teacher said.
Three months later, he learnt a few bars and sentences.
"It is difficult for him to feel tangible things in interpreting music, but he has better hearing than a normal child," Luo Zheng said.
His mother herself turns the music scores into simplified ones, which he then translates into Braille.
Unfortunately, not many musical scores are available in Braille and Su has yet to learn the expression marks.
As a child, Su sometimes forgot or failed to practice as required and his mother acted as his supervisor.
"I once dragged him from bed at 10 pm to practice. He is good now. He will have to rely on himself in the future," she said.
Su himself felt strange when he first touched a piano. "There are so many keys," he explained.
Feeling discouraged, he considered giving up, but later thought it would be a waste of money to do so.
"It was a bit boring when I practiced as a child, though I enjoy playing now," Su said.
He won a "gold prize" for children last year at the fourth national children and youth arts festival. He also once accompanied a pop singer at a charity show at the Sun Yat-sen Memorial Hall in Guangzhou.
Su admires legendary composer Ludwig van Beethoven, who created music even when he was deaf.
Away from the piano, Su enjoys listening to pop music.
He studied Chinese, mathematics, English and computer science at school, ranking second for academic performance in his class. At school, he also learns cooking and other courses on self-reliance.
Su realized how important English was as a foreign language during his trip to Vienna and, in his spare time, he likes to read books, such as Sherlock Holmes as well as Chinese classics like Romance of Three Kingdoms and Heroes of the Marshes.
The library is a major resource for him and he also downloads kungfu novels and science fiction stories from the Internet, where he communicates with his classmates using instant messaging tools.
One of his dreams is to play at the opening ceremony of the upcoming Asian Para Games to be held alongside the Asian Games in Guangzhou in November.
He also aspires to compete in the national Golden Bell Awards musical contest, which is held every two years in Guangzhou.
Su's mother works at a property management company, while his father is a consultant. The family, which is financially sound, also includes two grandparents and Su's older sister.
Luo Zheng said she hopes Su becomes a piano teacher one day.
With his acute sense of hearing, she said he could also become a piano tuner as well as help to translate musical scores into Braille.