Shenzhen: Think of Starbucks and the chances are you will be thinking of coffee. That's probably because it's the largest coffeehouse chain in the world, with more than 16,000 outlets in 49 countries and regions, more than 360 of them on the Chinese mainland.
But be prepared for change. In the future, the assistant will be asking whether you would prefer tea or coffee.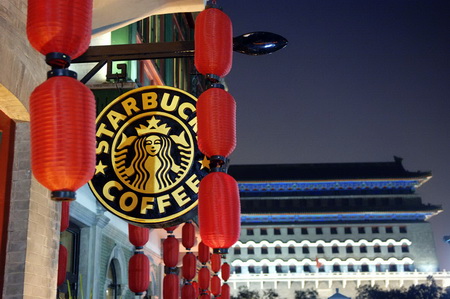 A Starbucks outlet at Qianmen Avenue in Beijing. The Seattle-based chain officially launched its first batch of Chinese tea products in China on Wednesday. [CFP]
The Seattle-based business on Wednesday officially launched its first batch of Chinese tea products in China, the traditional home of tea, in a new attempt to boost business.
"In addition to our passion in brewing high quality and great tasting coffee, Starbucks is committed to constantly innovating and introducing new locally relevant products to give customers more reasons to come to our outlets," said Shantel Wong, vice-president for Starbucks Greater China.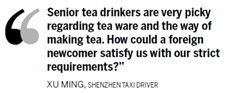 At the Starbucks LOFT cafe in Shenzhen, Guangdong province, the air is infused with the mixed aroma of coffee and tea. Waiters and waitresses wearing green T-shirts serve their customers with three distinct Chinese tea selections: White Mu Dan tea, Bi Luo Chun tea and Oriental Beauty Oolong tea, names familiar to traditional tea shops in China.
The Chinese tea selections are sold at 20 yuan ($2.93) per cup alongside Starbucks' existing international teas such as Chai, English Breakfast and Earl Grey.
Wong said it was just a first step by the company into Chinese tea and it would do more in the future.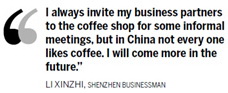 This is not the first time Starbucks has tried its hand at selling Chinese products. In 2008, it sold Cantonese-style pancakes for 8 to 15 yuan each in Guangdong province.
Last year, it sold zongzi (glutinous rice dumplings wrapped in reed) during the Dragon Boat Festival.
But Chinese tea, it says, will be a permanent fixture in what is the largest market outside the US for the firm, said Wong.
So how did it go down?
Related readings:


 Beijing cafes booming not because of coffee, but space


 Starbucks: A proven recipe for growth as well as coffee


 Longjing tea will be the real deal from now 


 Dragon Well Tea now trademarked


 Starbucks recalls 3,000 coffee grinders in China
Xu Ming, a taxi driver from Shenzhen and also a tea enthusiast, said: "I think there are many kinds of high quality and popular teas available in China, for example Fujian tea and Yunnan tea, so there is no need for me to visit a Western-styled caf for a cup of Chinese tea. Also, senior tea drinkers are very picky regarding tea ware and the way of making tea, How could a foreign newcomer satisfy us with our strict requirements?"
However, Li Xinzhi, a Shenzhen businessman and also a fan of Starbucks, said: "It is pretty good as Starbucks is providing its customers with more options. I always invite my business partners to the coffee shop for some informal meetings but in China not every one likes coffee. I think I will come more in the future."