$57 million earmarked for relief efforts in Yunnan
The worst drought in 60 years that has left millions of people in Yunnan province lacking drinking water has also fueled forest fires and threatened local energy supplies.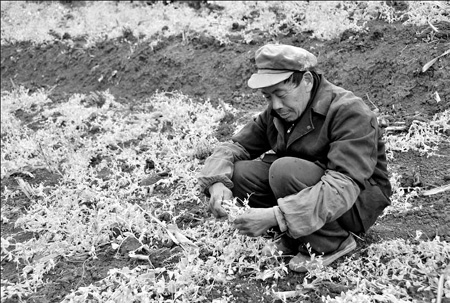 A villager looks at drought-ravaged land which is used for growing peas in Yiliang county, Yunnan province. [Photo/China Daily] 
A local official said late Sunday the drought has inflicted a direct agricultural economic loss of 6.5 billion yuan ($952 million) in Yunnan.
The province has earmarked 389 million yuan ($57 million) for drought relief, said Zhou Yunlong, head of the provincial water resources bureau.
The efforts have helped temporarily ease the shortage of drinking water for 4.25 million people and 2.42 million livestock, as well as irrigate 733 hectares of crops, Zhou added.
Related readings:


 Water sent to drought area for Spring Festival


 Drought causes economic loss of $952m in Yunnan


 Drought worsens in SW China's Yunnan province


 Yunnan, Guangxi reel from severe drought

Two firefighters were injured when they struggled to bring two mountain fires under control in the suburb of the provincial capital of Kunming on Sunday.
Wang Bin, a firefighter who works for a mountainous park near Kunming, needed an operation to remove the shrapnel from a fire extinguishing bomb from his chest.
According to local government officials, one mountain fire started at around noon on Sunday in the northwestern suburb of Kunming and was under control by about 7 pm.
Another fire in the Shilin county of Kunming occurred at about 2 pm and was finally put out at around 8:50 am yesterday.
"The fire was so strong and I could not get closer than 10 meters," said a forest guard surnamed Lin. "It is difficult to control the fire with the changing wind direction and dry weather."
The drought and fires raised the alarm for many local sites. Zhang Chengyong, who works for Dali Tourism Group in Yunnan, said it is important to remain vigilant so a mountain fire does not endanger Cangshan Mountain, a famous tourist site.
"No one entering the site is allowed to bring in a lighter," he said.
The drought might also effect energy supplies in Yunnan.
Wang Jinxian, an official with the Huaneng Lancang River Hydropower Co Ltd, told China Daily yesterday: "The long-term drought had caused the water level to drop, which might effect the electronic plant."
The drought, which began in July, has left 4.9 million residents and 3.34 million livestock with a shortage of drinking water.
More than 2 million hectares of crops, 81.7 percent of the total, have been effected. About 534,600 hectares have been destroyed. As a result, the province will suffer a drop of more than 40 percent in its summer grain output.
The severe drought has forced residents to replant 135 hectares of potatoes, corn, pulses and vegetables.
It also caused six times more forest fires and a 50 percent drop in the generation of hydropower.
Yunnan's rainfall since last July was 29 percent, a record low, or 207 millimeters lower than the average, whereas the temperature was 1.7 degrees higher than average and even went beyond the highest level since records began.
There will be no substantial rainfall in the short term, the Yunnan provincial meteorological bureau said, warning that the drought will not begin to lift until the raining season begins in May.
Xinhua contributed to the story