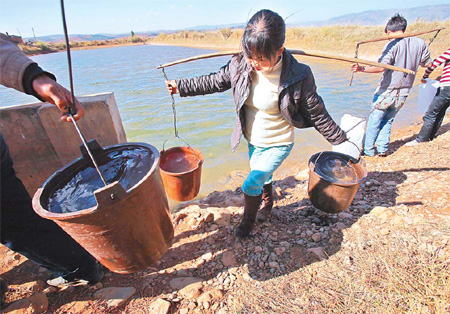 Villagers in Yiliang county, Yunnan province, fetch drinking water from afar on Tuesday. [Wang Yuheng]
The worst drought in 50 years is leaving millions of people and animals without drinking water in Yunnan province and the Guangxi Zhuang autonomous region.
Zhu Zhenghong, 76, from Niubi village in the mountains outside Kunming, capital of Yunnan, sits on a huge rock outside his home at 10 am and 2 pm every day.
Related readings:


 China funds 50M yuan to fight severe drought


 Severe drought hits Xiang River


 Severe drought hurts drinking water supply


 Severe drought hits China's grain zones


 Severe drought still lingers in north China
"I am waiting for the drinking water sent by the government that is the most important thing to me now," he told China Daily yesterday.
In Zhu's village, a total of 455 villagers are suffering from the drought, which has killed almost all the corn and bean crops in their fields.
"I haven't seen any rain since last September and the stream on the mountain has dried up," Zhu said.
"We have no more water for poultry and crops. The limited drinking water can only feed people and livestock now," he said.
"The drought might last until the end of April, but the rainwater kept in some villagers' home can only help them survive for another one and a half months at most," Li Kun, deputy director of the water affairs bureau of Kunming's Xishan district, told China Daily yesterday.
The drought relief department in Yunnan has declared a red alert drought emergency for the area.
Yunnan's rainfall since last July has been just over 200 mm, lower than the perennial average and a record low.
Other than low rainfall, the province is also experiencing record high temperatures. Average temperatures have been nearly 2 C above normal.
"High temperatures and low rainfall have driven wild elephants out of the forest to seek water," said Li Fuming, who works for the Wild Elephant Valley in Xishuangbanna, the southernmost prefecture of Yunnan.
The prolonged drought has also left 240,000 people and 110,000 heads of livestock without adequate drinking water in Guangxi.
The mountainous areas in western and northwestern parts of the region have lacked rainfall since August last year, said a spokesman for the regional flood control and drought relief headquarters.
"Local governments have been sending water trucks to villages that suffer severe shortages," he was quoted by Xinhua News Agency in an earlier interview.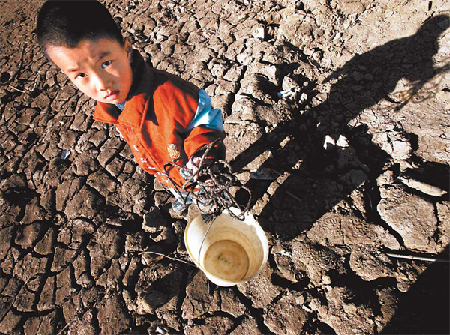 An unidentifi ed boy carries a bucket to collect water in Changkou town in Kunming, Yunnan province. The drought, the worst in 60 years, has affected 3.39 million people and 1.14 million hectares of cropland in Yunnan and the Guangxi Zhuang autonomous region. [Photo/Wang Yuheng] 
A number of local villagers also said they have had to walk about 3 km to fetch or buy water in towns.
"We are organizing local residents to dig wells and divert water from elsewhere to the drought-hit areas," the spokesman said.
The central government has also sent emergency teams to oversee relief work in southern China, where 3.39 million people are short of drinking water.
The government raised its emergency response on Tuesday to grade IV, requiring a 24-hour alert, daily damage reports, as well as relief funds and materials within 48 hours.
The drought has affected 1.14 million hectares of crops, resulting in direct economic losses of more than 3.6 billion yuan ($527 million) in the agriculture sector in Yunnan and Guangxi.
The central government has also earmarked 50 million yuan in emergency funds to help the province and region restore agricultural production and ensure that people and livestock have adequate drinking water.
Guo Anfei contributed to the story