With the realization that China is using 7 percent of the world's arable land to feed only a quarter of its population, the Chinese government is pushing for genetic modification research to increase crop yields, said professor Huang Dafang.
The goal is to ensure adequate food supplies, he said.
Genetically modified organisms have genetic material, or DNA, that has been altered in a way that does not occur naturally. Genetic modification allows selected individual genes to be transferred from one organism into another, and also between non-related species, to create advantages, experts say. Such methods are used to create genetically modified plants, which are then used to grow genetically modified food crops.
A rising population, a decrease in arable lands, and intensified desertification have driven the government to attach increasing importance to agricultural biotechnology, particularly genetic modification, said the Beijing-based Dr. Kunlun Huang, a biology expert.
As the biggest producer and consumer of pesticides in the world, China is facing rising food safety risks from pesticide contamination, he said.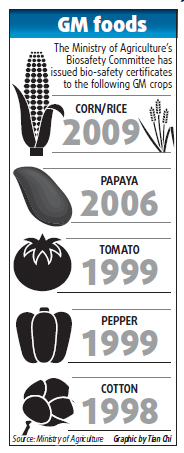 The approved genetically modified strains are mostly pest-resistant, which would help avert health risks from contamination and also increase outputs, Huang said.
Over the years, the government has invested billions of yuan in genetic modification research and development. Currently, more than 100 scientific institutions across the country are involved in such efforts on 130 different species.
To date, the country boasts the production of dozens of new varieties of transgenic crops including corn, cotton, canola, and soybean. In general, they have good properties such as resistance to disease, insects, herbicides, and drought. Many are also tolerant of salt.
In 1992, transgenic disease-resistance tobacco was planted commercially in China, making it the first country in the world to approve the commercial growth of transgenic plants.
Two major issues about this food are their tendencies to provoke allergic reactions and the uncertainty of gene transfers.
Widely cited environment concerns include the potential capability of the genetically modified plants to introduce the engineered genes into wild populations, and the susceptibility of non-target organisms to the gene product.
Other worries include the stability of the gene, and the reduction in the spectrum of other plants, including a loss of biodiversity, and the increased use of chemicals in agriculture.
The environmental safety aspects of genetically modified crops vary according to local conditions, the World Health Organization says.
Internationally, most governments consider that specific assessments are necessary for genetically modified food. Specific systems have been set up for the rigorous evaluation of genetically modified organisms and foods relative to both human health and the environment. Similar evaluations are generally not performed for traditional foods. Hence a significant difference exists in the evaluation process prior to marketing these two groups of food, experts said.
Greenpeace China's spokesman Fang Lifeng said that the genetically modified crops should not be planted on a large scale as the health risks have not yet been ruled out.
(China Daily 02/04/2010 page5)