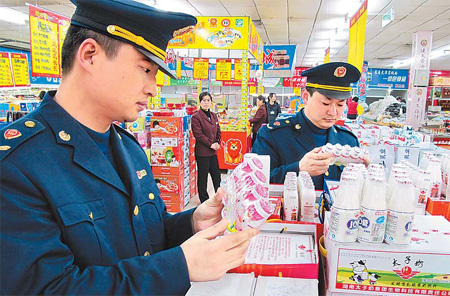 Quality inspection offi cers check dairy products at a supermarket in Wuli county, Shandong province, yesterday. [China Daily/Chen Ziqing]
Minister vows action as tainted products reported resurfacing
China launched a 10-day inspection to track and destroy melamine-tainted milk products nationwide as a 2008 contamination scandal continued to haunt the country.
Related readings:


 Melamine discovered in new milk products

 Thousands of children compensated over tainted milk


 Shanghai's toxic milk case referred for prosecution


 Tainted milk case 'kept from public' for a year


 Compensation lawsuit over tainted milk postponed
The National Food Safety Rectification Office led by Health Minister Chen Zhu ordered the move following reports that leftovers from the melamine-laced milk powder that had killed six children and sickened 300,000 in 2008 resurfaced on the market, mostly in the form of processed food like ice cream and condensed milk.
"Some unscrupulous food companies processed and resold the melamine-laced milk powder that was recalled but not destroyed by dairy companies, which has posed great health risks to consumers," Chen said at a teleconference over the weekend.
"It's an uncompleted task that has to be completed. Through the campaign, all melamine-tainted milk products will be found and destroyed to eliminate potential health risks facing the public," he said, adding that enterprises are the first in line to be accountable for product safety and quality.
A number of dairy companies had added melamine, used for manufacturing plastics and fertilizer, to watered-down milk to fool inspectors testing for protein content.
The latest campaign will target areas including manufacturing, circulation and consumption, Chen said.
A health official surnamed Wang, based in Fuzhou, capital of Fujian province, told China Daily that dairies, food enterprises, supermarkets and catering businesses would be inspected by administrations in the health, quality control, commerce and trade sectors.
"Related enterprises will be the primary target in the campaign," he said.
"Anyone caught breaching the food safety law will be severely punished accordingly," Chen said.
In late January, three domestic companies were found selling melamine-tainted milk products that health authorities said were leftovers from the 2008 tainted milk powder.
The products found have been pulled off shelves and executives of the companies involved have been set for prosecution.
Wang Dingmian, former chairman of the Guangdong Provincial Dairy Association, said: "Most dairy companies involved in the 2008 milk scandal issued recalls but none of them said the tainted products were ever destroyed."
Wang Dingmian blamed loopholes in government supervision as the major cause of such oversight.
Wang in Fuzhou thought otherwise.
Food safety depends ultimately on enterprises, he said.
"Given that there are more than 1,500 dairy manufacturers and far more food processors in the country, it's almost a mission impossible for government food safety inspectors to detect all problems in time," he said.
After the 2008 scandal, the government ordered the inspection and destruction of the melamine-tainted milk products.
Independent and inter-ministry food safety officials and expertise commissions were also organized to address the issue of food safety and ensure public health.
Chen Junshi, a leading researcher with the national food safety and risk assessment committee, conceded yesterday that no one currently knew how many melamine-tainted milk products were still circulating in the market.
Dong Shiliang, 31, a college teacher in Dali of Yunnan province whose 2-year-old son suffered from kidney stones after drinking tainted milk in 2008, said he has long hoped that the government will take the appropriate action to fight the problem.
"As parents of the sick children, we have always asked the question: Where did all the recalled tainted milk products go? Back in 2008, we raised the issue to the Ministry of Health, but there was no response," Dong told China Daily yesterday.
His son is slowly recovering, with one stone still lodged in his kidney, the father said.
Dong said he supported the new action against the tainted products, but also hoped that the government will not take it as a mere formality.
"If only they could be more transparent about what they are doing, like informing the public what companies were closed down and how many tainted milk products were destroyed," he said.
"I look forward to seeing pictures and videos of them destroying the products."
Lin Zheng, a lawyer who is devoted to helping parents of the affected children protect their rights, also said more had to be done.
"The move shows a relatively responsible attitude from the government, but we hope more can be done to make sure all the victims' families receive what they deserve," Lin said.