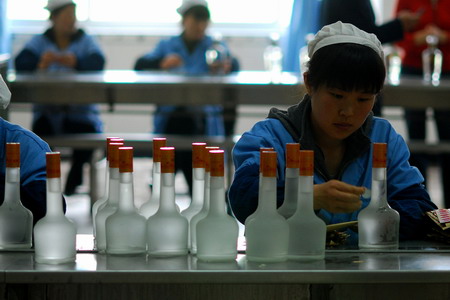 Labeling bottles of an expensive Chinese spirit. Business has begun to boom in the sector. [China Daily]
Consumption surges to unexpected levels as Spring Festival nears
China's high-end liquor producers are back with a bang after being hammered for more than a year by the financial crisis.
Consumption is surging to unexpected highs at what is traditionally the best period for promoting liquor compared with last year's Spring Festival slump.
Saleswoman Li Shanshan and her four colleagues at the Moutai store in Mudanyuan, in western Beijing's Haidian district, said they have been incredibly busy since late December.
"There have been plenty of customers  every day and it got even busier in January as the Spring Festival (February 14) drew near," she said. Last year "there were fewer visitors" and "many more idle hours".
"We expect sales of 4 million yuan during the holiday season (January and February)," she said. This contrasts with sales of 2 million yuan during the same period in 2009.
The best selling categories are expensive brands. Moutai 53, the most popular high-end liquor at 735 yuan a bottle, is leaving the shop, the largest of its type in Haidian, at the rate of 20 crates a day. Crates contain 12 bottles each.
"It's a good beginning. We are optimistic about the whole year," Li said.
Moutai is China's most prestigious liquor. The Mudanyuan shop, one of 75 Moutai stores in the capital, is indicative of the change in fortunes for the industry as the nation's economy begins to rebound.
"It's not just about the Spring Festival," said Liu Jiawei, senior beverage analyst at Dongxing Securities. "Thanks to the nation's fast economic growth and its continuous efforts to stimulate domestic consumption, growth of high-end liquor consumption this year will outperform the liquor sector as a whole."
A report from China Jianyin Investment Securities said, in 2010, China's high-end liquor (wine and spirit) consumption will grow by more than "30 percent" from a year earlier, higher than the liquor market as a whole, which will see a "20 to 25" percent rise.
While the global economy is recovering slowly, China now has the world's fastest-growing economy - and the growth is accelerating. During the last quarter of 2009, China's gross domestic product (GDP) rose 10.7 percent, much higher than the 9.1 percent seen in the third quarter. For the whole of 2009, China posted an 8.7 percent growth in GDP, beating its target of 8 percent.
The high GDP growth was mainly attributed to domestic consumption. Yao Jian, a spokesman for the Ministry of Commerce, said recently at a briefing that domestic consumption registered a "blistering" growth in 2009 - the "highest since 1986" - and it contributed "more than 50 percent" of GDP growth.
While many predict the nation's economy this year will grow by 10 percent, or even more, "the quickened pace in domestic consumption will also be sustained," Yao said.
As consumption continues to expand, more will be spent on liquor. "China enjoys a long and pleasant history of drinking liquor," said Liu. "Liquor is an important part of Chinese culture and is a signal of taste. So when the economy is up, the market for liquor, especially high-end liquor, will heat up."
During the past few weeks, the liquor promotion section of the Carrefour supermarket in Zhongguancun, western Beijing, has also been bustling with customers. "We saw signs of improvement in sales late last December," said Wang Ping, a member of the sales staff at the supermarket.
Significantly, high-end liquor is selling better than lower-end. "Moutai and Wuliangye that cost more than 500 yuan sell better, as do wines priced at 200 yuan and above," said Wang. "Customers buy them to give as gifts. This year, all liquor makers raised their expectation on sales. We have had to buy in plenty of high-end liquors to meet the demand."
China's high-end liquor market suffered from the last quarter of 2008 to the first half of last year, declining by 10 percent year-on-year.
Starting from late last year, sales of high-end liquor started to recover and shares in the major three high-end producers including the white spirit brands of Moutai and Wuliangye and wine maker Changyu increased by 17, 60 and 40 percent during the July-December period.
Because it was buoyed up by powerful consumption in the mid and low-end, China's liquor industry was not much affected last year. According to the National Bureau of Statistics, during the first 10 months of 2009, China's white spirit and wine output grew by 24 and 18 percent, respectively.
All liquor producers in China are fully prepared for accelerated growth in the high-end market.
Last December, Kweichow Moutai, the leading high-end white spirit player in China, announced an increase in factory prices of its products of an average of 13 percent, the first in its sector to raise costs. In mid-January, Sichuan-based Wuliangye, Moutai's archrival, said it would push up the price by 8.5 to 10.3 percent. Another high-end white spirit brand, Luzhoulaojiao, followed suit.
Although they said the reason behind the price hike was the growing cost of raw materials, Teng Wenfei, a beverage analyst with Shanghai Securities, said it was more to do with profits.
Usually, the profit ratio ranges from 80 to 90 percent with the high-end liquors, compared with 60 percent for liquor in general.
"The higher the price is, the more profit they can make," said Teng. "Considering the high potential growth, raising the price is a good move."
As well as raising prices, Moutai also plans to invest 567 million yuan to improve the technology in spirit-making, and 850 million yuan to buy land to expand its capacity. The company said sales in 2010 will rise by 10 to 12 percent to 13 billion yuan.
Moutai has an annual output capacity of 20,000 tons, giving it a 35 percent share in the high-end market. The company has 220 distributors and 840 stores nationwide. A big part of its sales are to government institutions and the army.
High-level executives at Wuliangye, the second largest high-end white spirit player, said very recently that this year the company will be committed to developing "high-end buyers, especially government institutions and army organizations" and would be "expanding its sales network nationwide".
Wuliangye is the largest white spirit producer by output volume in China but its profitability is lower than Moutai because a big proportion of its portfolio is low and mid-end categories.
The company is planning to expand output by 20 percent in the high-end sector, which will enable its sales to grow by 30 percent in 2010, according to a report from the China Securities Journal.
Wine consumption in China went into decline in late 2008 and did not recover until the third quarter of 2009. Since last September, wine output has enjoyed monthly growth of 40 percent.
Related readings:


 Toasting the future of China's wine industry


 Countering the counterfeiters of international drinks brands


 Sichuan to forge 'Golden Triangle' for liquor


 High-end liquor becoming costlier


 Liquor and water flow freely in Guizhou culture


 White liquor makers face profit squeeze
Yantai Changyu Pioneer Wine, one of China's leading wine makers, announced its net profit rose by 43 percent year-on-year during the third quarter of 2009, compared with 16 percent during the first half.
"In the first half of 2010, China's wine industry will register growth of 25 percent," said Teng.
According to a report by VINEXPO, an international liquor trade show, China's wine consumption will grow by a staggering 37 percent in 2010, 31 percentage points higher than the world average, which is 6 percent.
Changyu said mid and high-end wine will be the main business focus.
The company has built up three wineries to research and develop high-end wine. Last September, Changyu announced the establishment of a partnership between its three wineries and four international companies from France, Italy and New Zealand.
It is aimed at further tapping into China's high-end wine market.