Long time repression could lead to host of social problems
GUANGZHOU: More assistance should be offered to migrant workers whose sex lives have been affected by long separations from their spouses, a local official said yesterday.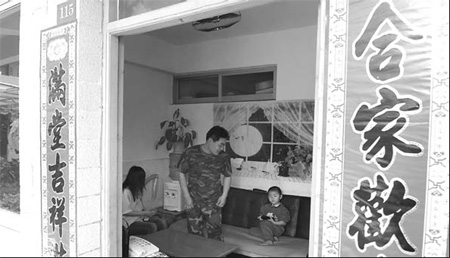 Migrant family members reunite in an apartment in Shenzhen, Guangdong province. The apartment was built large enough for a worker and his spouse and child, helping workers' mental health. [File photo]
Zhang Feng, director of Guangdong provincial commission of population and family planning, said that the migrant population suffers from severe sexual repression that could contribute to a rise in many social problems.
"Sexually transmitted diseases are spreading faster among migrant workers, whose sex lives have long been neglected," Zhang said during the ongoing session of Guangdong provincial political consultative conference.
Related readings:


 Migrant workers to get more protection


 Labor pains: Stabbing highlights need to protect migrant workers


 Migrant workers allowed to transfer medical insurance


 Migrant workers deserve more respect

During long periods of separation from their spouses, some migrant workers ask for "help" from sex workers to meet physiological needs, Zhang said.
"Unsafe sex by migrant workers will lead to a rise in venereal diseases and other social problems," Zhang said.
A recent survey on the sexual habits and reproductive health of Guangdong's migrant laborers showed that up to 36 percent of married men have experienced severe sexual repression.
The survey was commissioned by the Guangdong Sexology Association, polling 3,093 migrant workers in Guangzhou and Dongguan between Oct 12 and 16 last year on a range of issues such as sexual behavior, extramarital sex, sexual repression, sexual satisfaction, intercourse frequency and contraception.
Many young women who have migrated from rural areas, where sex education is nonexistent, experience a culture shock in bustling cities. They may follow in their friends' footsteps by adopting a more open attitude toward sex. Some women reportedly take modeling jobs, and others end up married but accepting their husbands' second wives or mistresses. Other women may even go as far as participating in the online sex industry, such as chatting to men online while nude.
Due to separation from their wives or unhappy marriages, 30 percent of married men hire prostitutes for sex, and another 30 percent said they have had many sexual partners.
Zhang made a proposal to the provincial political consultative conference last year, asking authorities to conduct an official survey on migrant workers' sex problems, but it was turned down.
"Again this year, I am asking for the government to do the research. Migrant workers will develop less interest in work if they cannot satisfy their sex needs," Zhang said.
In response to Zhang's request, government officials said the provincial political consultative conference committee has found it difficult to do that kind of research among migrant workers.
"Such research should be done by a sexology association," an unnamed official with the political consultative conference committee said, without elaborating.
To help promote safe sex, Zhang's commission distributed some 100 million condoms to migrant workers last year.
"We will distribute more this year, in an attempt to prevent sexual disease from spreading faster," Zhang told China Daily yesterday.
The southern province of Guangdong, China's top economic powerhouse, is home to an estimated 30 million migrant workers, the most in the country.