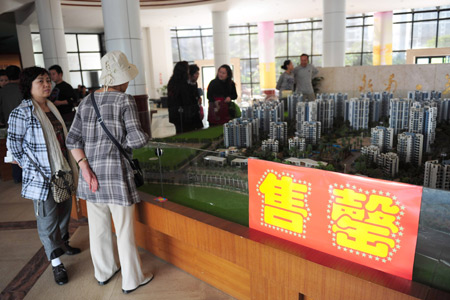 Potential buyers in Qionghai,Hainan province,look at a display model of sold-out residential buildings. [China Daily]
The plan to turn China's tropical southern island of Hainan into an international tourist resort by 2020 has already started nudging property prices skywards, according to media reports.
More than 200 potential property buyers have been pouring into the island every day since the end of last year, when the government unveiled its tourism plan, local media reported.
Prices are rising by about 1,000 yuan ($164) per sq m every day for some properties. Those properties that were priced at 15,000 yuan per sq m at the start of the year now cost 20,000 yuan, reports said.
Prices of some of the properties have already hit 70,000 yuan per sq m, with figures constantly fluctuating as real estate hunters flock to the island.
Ye Ning, a professional real estate speculator in Sanya, a popular coastal city in Hainan, said the sudden rise in prices is troubling.
"The average price of new apartments in Sanya's Fenghuangdao International Port were already as high as 60,000 yuan to 70,000 yuan per sq m as of Jan 11.
Now, the figure has risen to 100,000 yuan," said Ye, who started his business just two years ago.
"Compared with Haikou (the capital) and Sanya, where prices are already too high for most people, real estate in Qionghai, Wenchang and Boao are still better for the attractive locales and relatively low prices,"he said.
Potential buyers from Zhejiang province and the northeast, such as Heilongjiang, Jilin, and Liaoning provinces, are said to be the main force behind the skyrocketing prices.
"Many developers and homeowners have suspended sales, expecting prices to go through the roof to rake in more profits," said Liu Haiyi, assistant general manager of Hainan Jintai Real Estate Development Co Ltd.
The provincial government attempted to cool down the overheated real estate sector by suspending the leasing of land and approval of projects on Jan 15.
However, a property agent surnamed Wu said the plan might have backfired. "It may have led to a second wave of price hikes," he said.
As of now, more than 30 percent of Sanya's properties are vacant, which analysts say is "quite dangerous for the market".
Related readings:


 Hainan sees overheating real estate market

 Hainan: not just another Hawaii


 Hainan suspends commercial land transfers


 State Councilor stresses tourism development in Hainan
"There is a bubble forming, and it is bound to burst if effective measures are not applied soon," said He Qi, vice secretary general of the China Real Estate Association.
Wei Liucheng, secretary of the Hainan Provincial Committee of the Communist Party of China, said the recent tourism plan had led to some "unexpected responses".
"The society sometimes wrongly interprets the country's policies," Wei said.
"The province is short of talented people, not money. The final goal for development is to protect the interests of the masses and attract more talented people to settle down in Hainan."